Page 2 - Retiree News Fall 2019
P. 2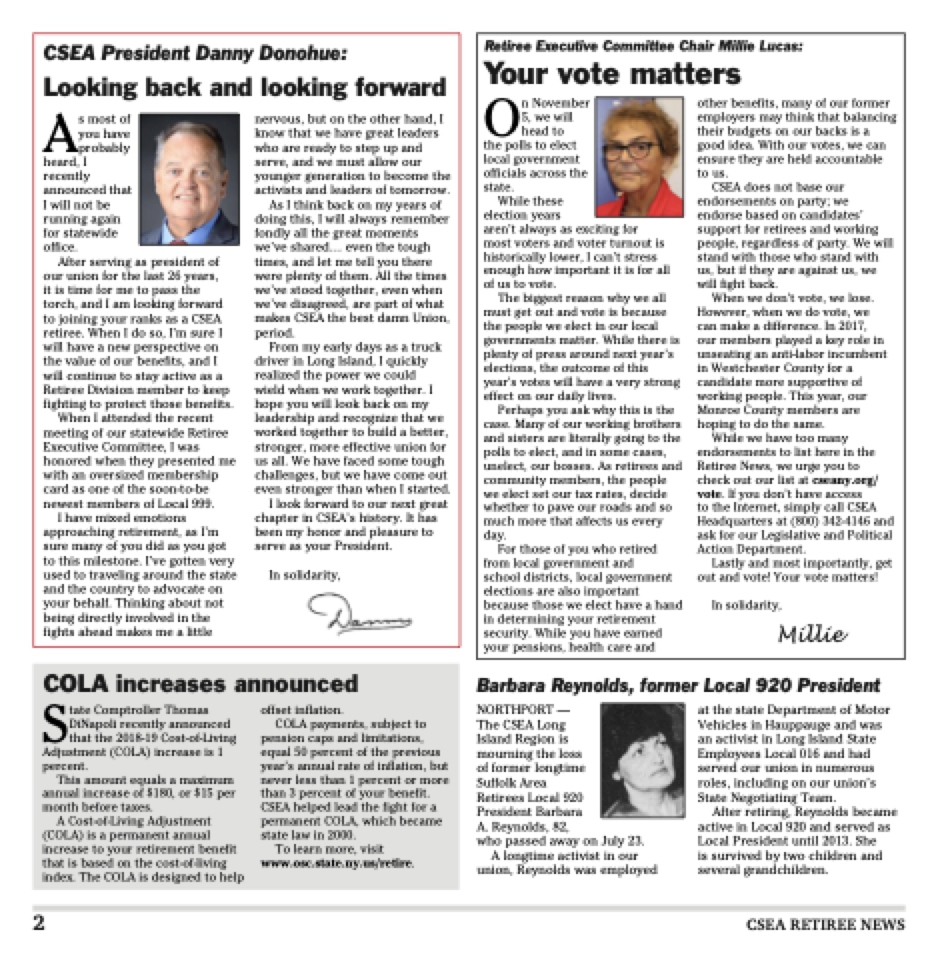 CSEA President Danny Donohue:
Looking back and looking forward
As most of you have probably heard, I recently announced that I will not be running again for statewide office.
After serving as president of our union for the last 26 years,
it is time for me to pass the torch, and I am looking forward to joining your ranks as a CSEA retiree. When I do so, I'm sure I will have a new perspective on the value of our benefits, and I will continue to stay active as a Retiree Division member to keep fighting to protect those benefits.
When I attended the recent meeting of our statewide Retiree Executive Committee, I was honored when they presented me with an oversized membership card as one of the soon-to-be newest members of Local 999.
I have mixed emotions approaching retirement, as I'm sure many of you did as you got to this milestone. I've gotten very used to traveling around the state and the country to advocate on your behalf. Thinking about not being directly involved in the fights ahead makes me a little
nervous, but on the other hand, I know that we have great leaders who are ready to step up and serve, and we must allow our younger generation to become the activists and leaders of tomorrow.
As I think back on my years of doing this, I will always remember fondly all the great moments we've shared... even the tough times, and let me tell you there were plenty of them. All the times we've stood together, even when we've disagreed, are part of what makes CSEA the best damn Union, period.
From my early days as a truck driver in Long Island, I quickly realized the power we could
wield when we work together. I hope you will look back on my leadership and recognize that we worked together to build a better, stronger, more effective union for us all. We have faced some tough challenges, but we have come out even stronger than when I started.
I look forward to our next great chapter in CSEA's history. It has been my honor and pleasure to serve as your President.
In solidarity,
   Retiree Executive Committee Chair Millie Lucas:
OYour vote matters
n November other benefits, many of our former 5, we will employers may think that balancing head to their budgets on our backs is a
 the polls to elect local government officials across the state.
While these
election years
aren't always as exciting for
most voters and voter turnout is historically lower, I can't stress enough how important it is for all of us to vote.
The biggest reason why we all must get out and vote is because the people we elect in our local governments matter. While there is plenty of press around next year's elections, the outcome of this year's votes will have a very strong effect on our daily lives.
Perhaps you ask why this is the case. Many of our working brothers and sisters are literally going to the polls to elect, and in some cases, unelect, our bosses. As retirees and community members, the people we elect set our tax rates, decide whether to pave our roads and so much more that affects us every day.
For those of you who retired from local government and
school districts, local government elections are also important because those we elect have a hand in determining your retirement security. While you have earned your pensions, health care and
good idea. With our votes, we can ensure they are held accountable to us.
CSEA does not base our endorsements on party; we endorse based on candidates' support for retirees and working people, regardless of party. We will stand with those who stand with us, but if they are against us, we will fight back.
When we don't vote, we lose. However, when we do vote, we can make a difference. In 2017, our members played a key role in unseating an anti-labor incumbent in Westchester County for a candidate more supportive of working people. This year, our Monroe County members are hoping to do the same.
While we have too many endorsements to list here in the Retiree News, we urge you to check out our list at cseany.org/ vote. If you don't have access
to the Internet, simply call CSEA Headquarters at (800) 342-4146 and ask for our Legislative and Political Action Department.
Lastly and most importantly, get out and vote! Your vote matters!
In solidarity,
Millie
 SCOLA increases announced
tate Comptroller Thomas offset inflation.
DiNapoli recently announced COLA payments, subject to that the 2018-19 Cost-of-Living pension caps and limitations,
Adjustment (COLA) increase is 1 percent.
This amount equals a maximum annual increase of $180, or $15 per month before taxes.
A Cost-of-Living Adjustment (COLA) is a permanent annual increase to your retirement benefit that is based on the cost-of-living index. The COLA is designed to help
equal 50 percent of the previous year's annual rate of inflation, but never less than 1 percent or more than 3 percent of your benefit. CSEA helped lead the fight for a permanent COLA, which became state law in 2000.
To learn more, visit www.osc.state.ny.us/retire.
Barbara Reynolds, former Local 920 President
 2
CSEA RETIREE NEWS
NORTHPORT —
The CSEA Long
Island Region is
mourning the loss
of former longtime
Suffolk Area
Retirees Local 920
President Barbara
A. Reynolds, 82,
who passed away on July 23.
A longtime activist in our union, Reynolds was employed
at the state Department of Motor Vehicles in Hauppauge and was an activist in Long Island State Employees Local 016 and had served our union in numerous roles, including on our union's State Negotiating Team.
After retiring, Reynolds became active in Local 920 and served as Local President until 2013. She
is survived by two children and several grandchildren.