Page 6 - Work Force February 2022
P. 6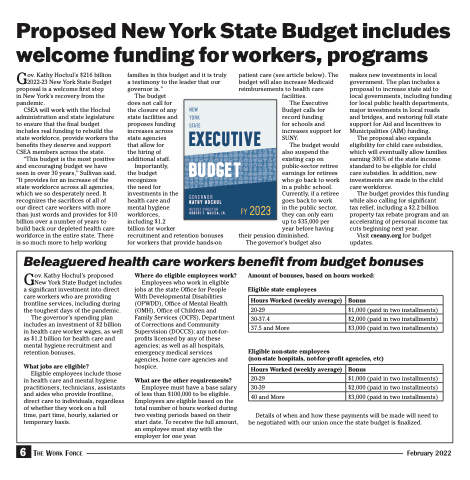 Proposed New York State Budget includes welcome funding for workers, programs
Gov. Kathy Hochul's $216 billion 2022-23 New York State Budget proposal is a welcome first step
in New York's recovery from the pandemic.
CSEA will work with the Hochul administration and state legislature to ensure that the final budget includes real funding to rebuild the state workforce, provide workers the benefits they deserve and support CSEA members across the state.
"This budget is the most positive and encouraging budget we have seen in over 30 years," Sullivan said. "It provides for an increase of the state workforce across all agencies, which we so desperately need. It recognizes the sacrifices of all of
our direct care workers with more than just words and provides for $10 billion over a number of years to build back our depleted health care workforce in the entire state. There is so much more to help working
families in this budget and it is truly a testimony to the leader that our governor is."
patient care (see article below). The budget will also increase Medicaid reimbursements to health care
makes new investments in local government. The plan includes a proposal to increase state aid to local governments, including funding for local public health departments, major investments in local roads
and bridges, and restoring full state support for Aid and Incentives to Municipalities (AIM) funding.
The proposal also expands eligibility for child care subsidies, which will eventually allow families earning 300% of the state income standard to be eligible for child care subsidies. In addition, new investments are made in the child care workforce.
The budget provides this funding while also calling for significant
tax relief, including a $2.2 billion property tax rebate program and an accelerating of personal income tax cuts beginning next year.
Visit cseany.org for budget updates.
The budget does not call for the closure of any state facilities and proposes funding increases across state agencies that allow for
the hiring of additional staff.
Importantly,
the budget
recognizes
the need for
investments in the
health care and
mental hygiene
workforces,
including $1.2
billion for worker
recruitment and retention bonuses for workers that provide hands-on
facilities.
The Executive
Budget calls for record funding
for schools and increases support for SUNY.
The budget would also suspend the existing cap on public-sector retiree earnings for retirees who go back to work in a public school. Currently, if a retiree goes back to work
in the public sector, they can only earn up to $35,000 per year before having
NEW YORK STATE
EXECUTIVE
BUDGET
GOVERNOR KATHY HOCHUL
FY 2023
BUDGET DIRECTOR ROBERT F. MUJICA, JR.
Beleaguered health care workers benefit from budget bonuses
Gov. Kathy Hochul's proposed New York State Budget includes a significant investment into direct care workers who are providing frontline services, including during the toughest days of the pandemic.
The governor's spending plan includes an investment of $2 billion in health care worker wages, as well as $1.2 billion for health care and mental hygiene recruitment and retention bonuses.
What jobs are eligible?
Eligible employees include those in health care and mental hygiene practitioners, technicians, assistants and aides who provide frontline, direct care to individuals, regardless of whether they work on a full
time, part time, hourly, salaried or temporary basis.
Where do eligible employees work?
Employees who work in eligible jobs at the state Office for People With Developmental Disabilities (OPWDD), Office of Mental Health (OMH), Office of Children and Family Services (OCFS), Department of Corrections and Community Supervision (DOCCS); any not-for- profits licensed by any of these agencies; as well as all hospitals, emergency medical services agencies, home care agencies and hospice.
What are the other requirements?
Employee must have a base salary of less than $100,000 to be eligible. Employees are eligible based on the total number of hours worked during two vesting periods based on their start date. To receive the full amount, an employee must stay with the employer for one year.
Amount of bonuses, based on hours worked: Eligible state employees
6 The Work Force
February 2022
their pension diminished. The governor's budget also
Hours Worked (weekly average)
20-29
30-37.4
37.5 and More
Bonus
$1,000 (paid in two installments) $2,000 (paid in two installments) $3,000 (paid in two installments)
Eligible non-state employees
(non-state hospitals, not-for-profit agencies, etc)
Hours Worked (weekly average)
20-29
30-39
40 and More
Bonus
$1,000 (paid in two installments) $2,000 (paid in two installments) $3,000 (paid in two installments)
Details of when and how these payments will be made will need to be negotiated with our union once the state budget is finalized.