Page 2 - Work Force January 2017
P. 2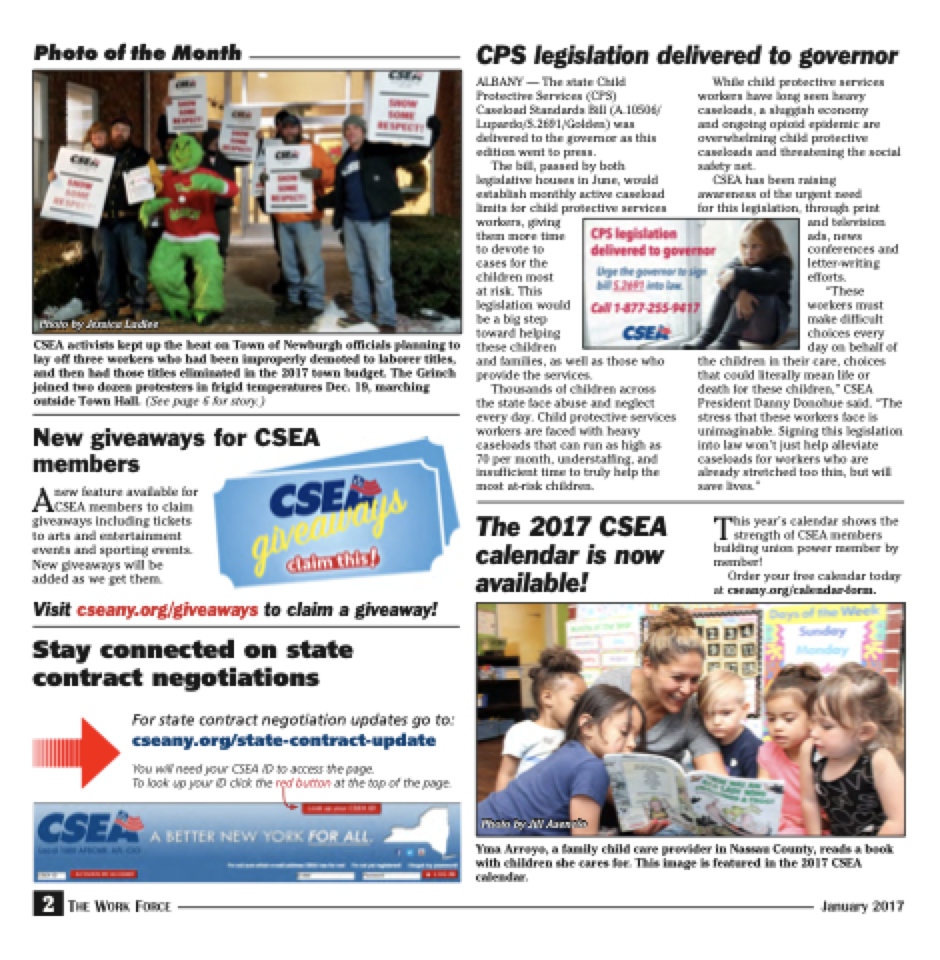 Photo of the Month
CPS legislation delivered to governor
  Photo by Jessica Ladlee
           CSEA activists kept up the heat on Town of Newburgh officials planning to lay off three workers who had been improperly demoted to laborer titles, and then had those titles eliminated in the 2017 town budget. The Grinch joined two dozen protesters in frigid temperatures Dec. 19, marching outside Town Hall. (See page 6 for story.)
New giveaways for CSEA
members
Anew feature available for CSEA members to claim giveaways including tickets to arts and entertainment events and sporting events. New giveaways will be added as we get them.
Visit cseany.org/giveaways to claim a giveaway! Stay connected on state
contract negotiations
For state contract negotiation updates go to:
cseany.org/state-contract-update
You will need your CSEA ID to access the page.
To look up your ID click the red button at the top of the page.
ALBANY — The state Child Protective Services (CPS) Caseload Standards Bill (A.10506/ Lupardo/S.2691/Golden) was delivered to the governor as this edition went to press.
The bill, passed by both legislative houses in June, would establish monthly active caseload limits for child protective services workers, giving
them more time
to devote to
cases for the
children most
at risk. This
legislation would
be a big step
toward helping
these children
and families, as well as those who provide the services.
Thousands of children across the state face abuse and neglect every day. Child protective services workers are faced with heavy caseloads that can run as high as 70 per month, understaffing, and insufficient time to truly help the most at-risk children.
The 2017 CSEA calendar is now available!
While child protective services workers have long seen heavy caseloads, a sluggish economy
and ongoing opioid epidemic are overwhelming child protective caseloads and threatening the social safety net.
CSEA has been raising awareness of the urgent need for this legislation, through print
and television ads, news conferences and letter-writing efforts.
"These workers must make difficult choices every day on behalf of
the children in their care, choices that could literally mean life or death for these children," CSEA President Danny Donohue said. "The stress that these workers face is unimaginable. Signing this legislation into law won't just help alleviate caseloads for workers who are already stretched too thin, but will save lives."
   T
building union power member by member!
Order your free calendar today at cseany.org/calendar-form.
his year's calendar shows the
strength of CSEA members
 Photo by Jill Asencio
                    2 The Work Force
January 2017
Yma Arroyo, a family child care provider in Nassau County, reads a book with children she cares for. This image is featured in the 2017 CSEA calendar.