Page 6 - Work Force January 2017
P. 6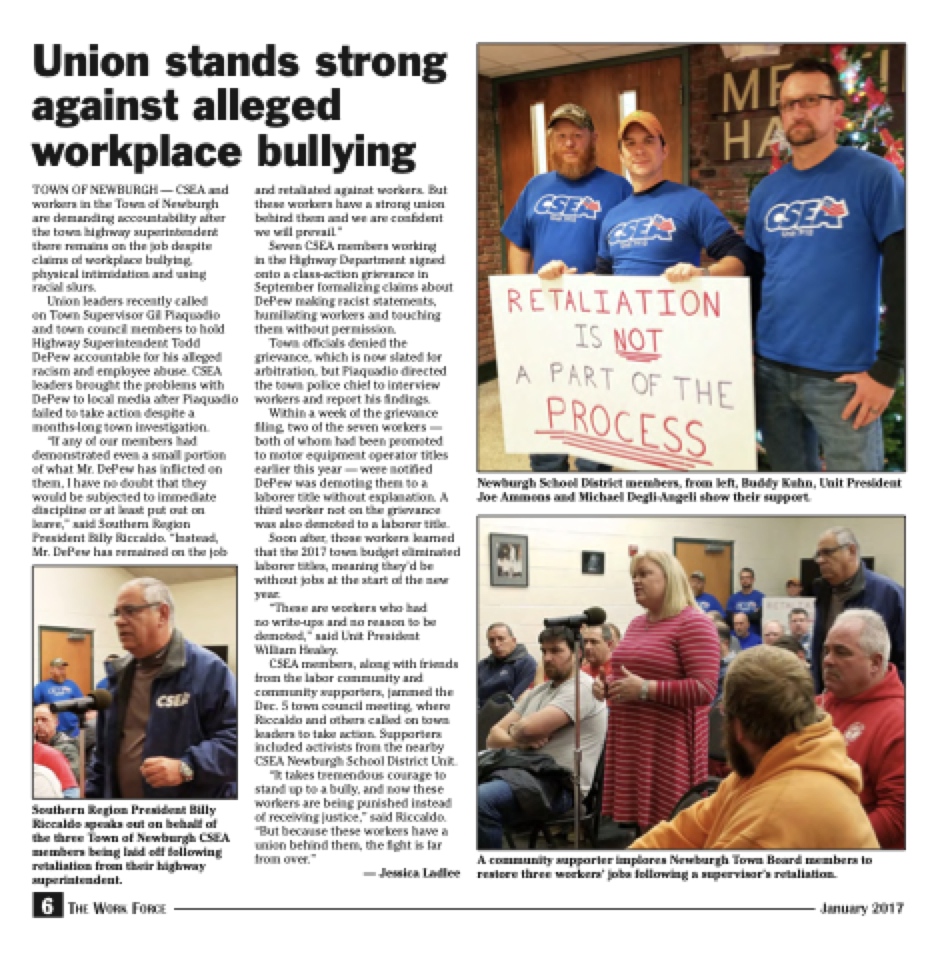 Union stands strong against alleged workplace bullying
 TOWN OF NEWBURGH — CSEA and workers in the Town of Newburgh are demanding accountability after the town highway superintendent there remains on the job despite claims of workplace bullying, physical intimidation and using racial slurs.
Union leaders recently called
on Town Supervisor Gil Piaquadio and town council members to hold Highway Superintendent Todd DePew accountable for his alleged racism and employee abuse. CSEA leaders brought the problems with DePew to local media after Piaquadio failed to take action despite a months-long town investigation.
"If any of our members had demonstrated even a small portion of what Mr. DePew has inflicted on them, I have no doubt that they would be subjected to immediate discipline or at least put out on leave," said Southern Region President Billy Riccaldo. "Instead, Mr. DePew has remained on the job
Southern Region President Billy Riccaldo speaks out on behalf of the three Town of Newburgh CSEA members being laid off following retaliation from their highway superintendent.
and retaliated against workers. But these workers have a strong union behind them and we are confident we will prevail."
Seven CSEA members working
in the Highway Department signed onto a class-action grievance in September formalizing claims about DePew making racist statements, humiliating workers and touching them without permission.
Town officials denied the grievance, which is now slated for arbitration, but Piaquadio directed the town police chief to interview workers and report his findings.
Within a week of the grievance filing, two of the seven workers — both of whom had been promoted to motor equipment operator titles earlier this year — were notified DePew was demoting them to a laborer title without explanation. A third worker not on the grievance was also demoted to a laborer title.
Soon after, those workers learned that the 2017 town budget eliminated laborer titles, meaning they'd be without jobs at the start of the new year.
"These are workers who had no write-ups and no reason to be demoted," said Unit President William Healey.
CSEA members, along with friends from the labor community and community supporters, jammed the Dec. 5 town council meeting, where Riccaldo and others called on town leaders to take action. Supporters included activists from the nearby CSEA Newburgh School District Unit.
"It takes tremendous courage to stand up to a bully, and now these workers are being punished instead of receiving justice," said Riccaldo. "But because these workers have a union behind them, the fight is far from over."
— Jessica Ladlee
Newburgh School District members, from left, Buddy Kuhn, Unit President Joe Ammons and Michael Degli-Angeli show their support.
  6 The Work Force
January 2017
A community supporter implores Newburgh Town Board members to restore three workers' jobs following a supervisor's retaliation.