Page 22 - Work Force October 2020
P. 22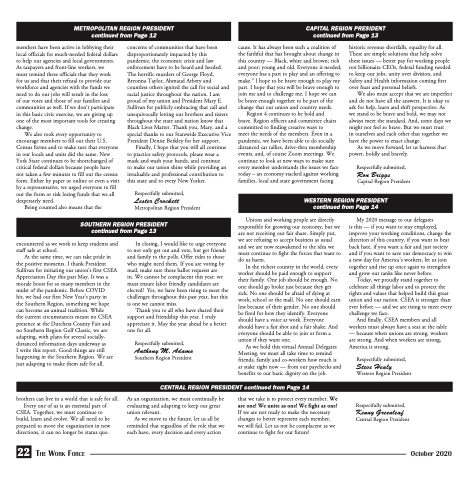 members have been active in lobbying their local officials for much-needed federal dollars to help our agencies and local governments. As taxpayers and front-line workers, we
must remind these officials that they work for us and that their refusal to provide our workforce and agencies with the funds we need to do our jobs will result in the loss
of our votes and those of our families and communities as well. If we don't participate in this basic civic exercise, we are giving up one of the most important tools for creating change.
We also took every opportunity to encourage members to fill out their U.S. Census forms and to make sure that everyone in our locals and units did the same. New York State continues to be shortchanged of critical federal dollars because people have
not taken a few minutes to fill out the census form. Either by paper or online or even a visit by a representative, we urged everyone to fill out the form or risk losing funds that we all desperately need.
Being counted also means that the
encountered as we work to keep students and staff safe at school.
At the same time, we can take pride in the positive moments. I thank President Sullivan for initiating our union's first CSEA Appreciation Day this past May. It was a morale boost for so many members in the midst of the pandemic. Before COVID
hit, we had our first New Year's party in
the Southern Region, something we hope can become an annual tradition. While
the current circumstances meant no CSEA presence at the Dutchess County Fair and no Southern Region Golf Classic, we are adapting, with plans for several socially- distanced information days underway as
I write this report. Good things are still happening in the Southern Region. We are just adapting to make them safe for all.
brothers can live in a world that is safe for all. Every one of us is an essential part of
CSEA. Together, we must continue to build, learn and evolve. We all need to be prepared to move the organization in new directions, it can no longer be status quo.
concerns of communities that have been disproportionately impacted by this pandemic, the economic crisis and law enforcement have to be heard and heeded. The horrific murders of George Floyd, Breonna Taylor, Ahmaud Arbery and countless others ignited the call for social and racial justice throughout the nation. I am proud of my union and President Mary E. Sullivan for publicly embracing that call and unequivocally letting our brothers and sisters throughout the state and nation know that Black Lives Matter. Thank you, Mary, and a special thanks to our Statewide Executive Vice President Denise Berkley for her support.
Finally, I hope that you will all continue to practice safety protocols, please wear a mask and wash your hands, and continue
to make our union shine while providing an invaluable and professional contribution to this state and to every New Yorker.
Respectfully submitted,
Lester Crockett
Metropolitan Region President
In closing, I would like to urge everyone to not only get out and vote, but get friends and family to the polls. Offer rides to those who might need them. If you are voting by mail, make sure those ballot requests are
in. We cannot be complacent this year: we must ensure labor friendly candidates are elected! Yes, we have been rising to meet the challenges throughout this past year, but this is one we cannot miss.
Thank you to all who have shared their support and friendship this year. I truly appreciate it. May the year ahead be a better one for all.
Respectfully submitted,
Anthony M. Adamo
Southern Region President
cause. It has always been such a coalition of the faithful that has brought about change in this country — Black, white and brown; rich and poor; young and old. Everyone is needed; everyone has a part to play and an offering to make." I hope to be brave enough to play my part. I hope that you will be brave enough to join me and to challenge me. I hope we can be brave enough together to be part of the change that our union and country needs.
Region 4 continues to be bold and brave. Region officers and committee chairs committed to finding creative ways to
meet the needs of the members. Even in a pandemic, we have been able to do socially distanced car rallies, drive-thru membership events, and, of course Zoom meetings. We continue to look at new ways to make sure every member understands the issues we face today – an economy stacked against working families, local and state government facing
Unions and working people are directly responsible for growing our economy, but we are not receiving our fair share. Simply put, we are refusing to accept business as usual and we are now reawakened to the idea we must continue to fight the forces that want to do us harm.
In the richest country in the world, every worker should be paid enough to support their family. One job should be enough. No one should go broke just because they get sick. No one should be afraid of dying at work, school or the mall. No one should earn less because of their gender. No one should be fired for how they identify. Everyone should have a voice at work. Everyone
should have a fair shot and a fair shake. And everyone should be able to join or form a union if they want one.
As we hold this virtual Annual Delegates Meeting, we must all take time to remind friends, family and co-workers how much is at stake right now — from our paychecks and benefits to our basic dignity on the job.
historic revenue shortfalls, equality for all. These are simple solutions that help solve these issues — better pay for working people not billionaire CEOs, federal funding needed to keep our jobs, unity over division, and Safety and Health information coming first over fears and personal beliefs.
We also must accept that we are imperfect and do not have all the answers. It is okay to ask for help, learn and shift perspective. As we stand to be brave and bold, we may not always meet the standard. And, some days we might not feel so brave. But we must trust
in ourselves and each other that together we have the power to enact change.
As we move forward, let us harness that power, boldly and bravely.
Respectfully submitted,
Ron Briggs
Capital Region President
My 2020 message to our delegates
is this — if you want to stay employed, improve your working conditions, change the direction of this country, if you want to beat back hate, if you want a fair and just society and if you want to save our democracy to win a new day for America's workers, let us join together and rise up once again to strengthen and grow our ranks like never before.
Today, we proudly stand together to celebrate all things labor and to protect the rights and values that helped build this great union and our nation. CSEA is stronger than ever before — and we are rising to meet every challenge we face.
And finally, CSEA members and all workers must always have a seat at the table — because when unions are strong, workers are strong. And when workers are strong, America is strong.
Respectfully submitted,
Steve Healy
Western Region President
Respectfully submitted,
Kenny Greenleaf
Central Region President
METROPOLITAN REGION PRESIDENT continued from Page 12
CAPITAL REGION PRESIDENT continued from Page 13
 WESTERN REGION PRESIDENT continued from Page 14
 SOUTHERN REGION PRESIDENT continued from Page 13
 22 The Work Force
October 2020
CENTRAL REGION PRESIDENT continued from Page 14
As an organization, we must continually be evaluating and adapting to keep our great union relevant.
As we move to the future, let us all be reminded that regardless of the role that we each have, every decision and every action
that we take is to protect every member. We are one! We unite as one! We fight as one! If we are not ready to make the necessary changes to better represent each member, we will fail. Let us not be complacent as we continue to fight for our future!