Page 6 - Work Force October 2020
P. 6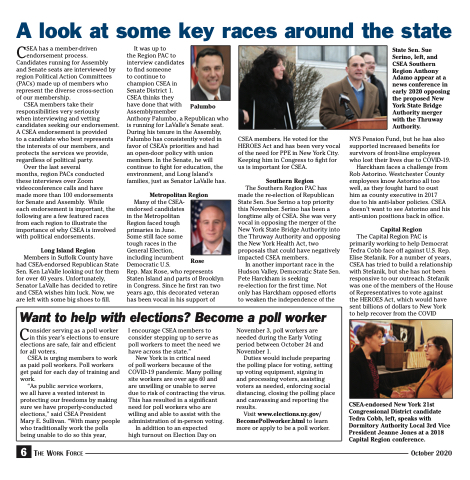 A look at some key races around the state
CSEA has a member-driven endorsement process. Candidates running for Assembly and Senate seats are interviewed by region Political Action Committees (PACs) made up of members who represent the diverse cross-section of our membership.
CSEA members take their responsibilities very seriously
when interviewing and vetting candidates seeking our endorsement. A CSEA endorsement is provided
to a candidate who best represents the interests of our members, and protects the services we provide, regardless of political party.
Over the last several
months, region PACs conducted these interviews over Zoom videoconference calls and have made more than 100 endorsements for Senate and Assembly. While each endorsement is important, the following are a few featured races from each region to illustrate the importance of why CSEA is involved with political endorsements.
Long Island Region
Members in Suffolk County have had CSEA-endorsed Republican State Sen. Ken LaValle looking out for them for over 40 years. Unfortunately, Senator LaValle has decided to retire and CSEA wishes him luck. Now, we are left with some big shoes to fill.
It was up to
the Region PAC to
interview candidates
to find someone
to continue to
champion CSEA in
Senate District 1.
CSEA thinks they
have done that with Assemblymember
Anthony Palumbo, a Republican who is running for LaValle's Senate seat. During his tenure in the Assembly, Palumbo has consistently voted in favor of CSEA's priorities and had
an open-door policy with union members. In the Senate, he will continue to fight for education, the environment, and Long Island's families, just as Senator LaValle has.
Metropolitan Region
Many of the CSEA-
endorsed candidates
in the Metropolitan
Region faced tough
primaries in June.
Some still face some
tough races in the
General Election,
including incumbent
Democratic U.S.
Rep. Max Rose, who represents Staten Island and parts of Brooklyn in Congress. Since he first ran two years ago, this decorated veteran has been vocal in his support of
State Sen. Sue Serino, left, and CSEA Southern Region Anthony Adamo appear at a news conference in early 2020 opposing the proposed New York State Bridge Authority merger with the Thruway Authority.
NYS Pension Fund, but he has also supported increased benefits for survivors of front-line employees who lost their lives due to COVID-19.
Harckham faces a challenge from Rob Astorino. Westchester County employees know Astorino all too well, as they fought hard to oust him as county executive in 2017
due to his anti-labor policies. CSEA doesn't want to see Astorino and his anti-union positions back in office.
Capital Region
The Capital Region PAC is primarily working to help Democrat Tedra Cobb face off against U.S. Rep. Elise Stefanik. For a number of years, CSEA has tried to build a relationship with Stefanik, but she has not been responsive to our outreach. Stefanik was one of the members of the House of Representatives to vote against the HEROES Act, which would have sent billions of dollars to New York
to help recover from the COVID
  Palumbo
 Rose
CSEA members. He voted for the HEROES Act and has been very vocal of the need for PPE in New York City. Keeping him in Congress to fight for us is important for CSEA.
Southern Region
The Southern Region PAC has made the re-election of Republican State Sen. Sue Serino a top priority this November. Serino has been a longtime ally of CSEA. She was very vocal in opposing the merger of the New York State Bridge Authority into the Thruway Authority and opposing the New York Health Act, two proposals that could have negatively impacted CSEA members.
In another important race in the Hudson Valley, Democratic State Sen. Pete Harckham is seeking
re-election for the first time. Not only has Harckham opposed efforts to weaken the independence of the
 Want to help with elections? Become a poll worker
Consider serving as a poll worker in this year's elections to ensure elections are safe, fair and efficient
for all voters.
CSEA is urging members to work
as paid poll workers. Poll workers get paid for each day of training and work.
"As public service workers,
we all have a vested interest in protecting our freedoms by making sure we have properly-conducted elections," said CSEA President Mary E. Sullivan. "With many people who traditionally work the polls being unable to do so this year,
I encourage CSEA members to consider stepping up to serve as poll workers to meet the need we have across the state."
New York is in critical need
of poll workers because of the COVID-19 pandemic. Many polling site workers are over age 60 and are unwilling or unable to serve due to risk of contracting the virus. This has resulted in a significant need for poll workers who are willing and able to assist with the administration of in-person voting.
In addition to an expected high turnout on Election Day on
November 3, poll workers are needed during the Early Voting period between October 24 and November 1.
Duties would include preparing the polling place for voting, setting up voting equipment, signing in
and processing voters, assisting voters as needed, enforcing social distancing, closing the polling place and canvassing and reporting the results.
Visit www.elections.ny.gov/ BecomePollworker.html to learn more or apply to be a poll worker.
 6 The Work Force
October 2020
CSEA-endorsed New York 21st Congressional District candidate Tedra Cobb, left, speaks with Dormitory Authority Local 3rd Vice President Jeanne Jones at a 2018 Capital Region conference.