The CSEA Communications Department was recently honored by the International Labor Communications Association (ILCA) in its 2022 Labor Media Awards Contest.
Our union received three awards in the association's 2022 contest, which recognized 2021 print, online and broadcast work from across the U.S. and Canada.
CSEA took the following awards: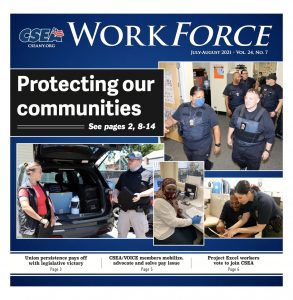 1st Place – Writing – Best Series, "Protecting our Communities."
This series on CSEA members employed in probation and law enforcement ran in the July-August 2021 edition. CSEA Communications Specialists Jessica Ladlee, Nicholas Newcomb, Therese Assalian and Wendi Bowie and former CSEA Communications Specialist Ove Overmyer are the honorees.
Read the series: https://cseany.org/ebooks/Work_Force_July-August_2021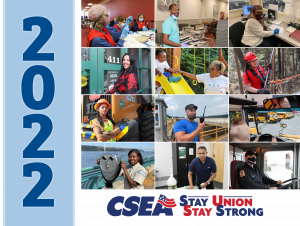 2nd Place – General Excellence, Single-Issue Publication.
This award honored our union's 2022 CSEA Calendar. The honorees are Graphic Production Specialist Jason Hosier, who designed the calendar, and the CSEA Communications Department.
3rd Place – Best Photograph, Tyrell Jasper.
The honoree is CSEA Communications Specialist Wendi Bowie, who took this photo of CSEA member Tyrell Jasper, a senior driver at the Suffolk Cooperative Library System. It initially published in the April 2021 Work Force.