OSWEGO — After putting Oswego County patients first for 33 years with her care and quick wit, Oswego County Unit member Tina Bourgeois, a senior licensed practical nurse at the county's Health Department, was recognized as the county's 2022 Rural Health Champion of the Year. 
"We are thrilled that Tina is the recipient of this award, as she is a true rural health champion," said Oswego County Interim Public Health Director Vera Dunsmoor. "Tina has a profound impact on Oswego County. She is dedicated to improving the health and lives of residents and has a passion for public health that is unmatched."
Bourgeois, who plans to retire this month, has spent her career investigating communicable diseases, administering vaccines and assisting with health clinics. 
"I was surprised and humbled at receiving this award," Bourgeois said. "It's a team effort here. It made my heart feel good."
Co-workers who nominated her for the award said Bourgeois provides a 'breath of fresh air' to the department with her high-energy delivery of care. 
Known for her ability to deliver vaccines at a "lightning speed," Bourgeois is often specifically requested by patients for appointments.
Because of her ability to connect with nervous patients and project an aura of calm, Bourgeois is known to deliver vaccines before patients even realize what happened.
"Tina has been the nurse at the other end of the needle for many times I've needed a vaccine; she is so smooth you almost don't feel the shot at all," said CSEA Oswego County Office Personnel Unit President Valerie Williams. "She is planning her retirement, and we will sure miss her ready smile and her friendly attitude as she carries out her work tasks."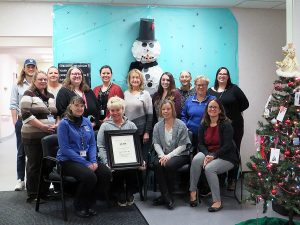 Williams added that Bourgeois' calm approach was especially important during the pandemic.
"It never seems like work with her, even when going person to person in the large COVID clinics. She made 'quick and friendly' work at a time when we were all so nervous about the virus and using a vaccine, not to mention being in a room with more people than we had likely been with in a long time," said Williams. "She was calm and reassuring. We all wish her well in her future endeavors and she will be missed at the Oswego County Health Department and CSEA members."
"I'm so grateful to have been coming into this place every single day for the last 33.5 years," said Bourgeois. "That's going to be a change not doing that. I love coming in here, it's a great place to work and I love serving the people of Oswego County."
— Nicholas Newcomb