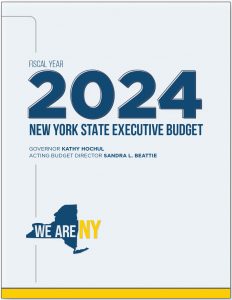 ALBANY — Gov. Kathy Hochul and state legislators recently reached agreement on the final 2023-24 New York State Budget.
The $229 billion spending plan does not include any layoffs, facility closures, inpatient bed reductions or service reductions. The budget fully funds state agencies as well as providing additional monies to local governments.
The budget contains funding that will allow the state to continue to hire staff in nearly all state agencies in the coming fiscal year.
The plan addresses one of our union's top priorities – recruiting and retaining public employees.
The budget allows the state Department of Civil Service to offer continuous recruitment exams for open competitive positions, waives civil service fees from July 1, 2023 through December 31, 2025 and allows municipalities to do the same.
In addition, Civil Service has been charged with examining the state's pay structure to ensure positions are competitive with the private sector.
"I am proud to announce CSEA was able to secure numerous wins, including new policies and programs to help increase hiring in state and local governments," said CSEA President Mary E. Sullivan. "While this budget was good for CSEA members, there is still work to do. As we approach the end of this year's legislative session, CSEA will continue to fight for our legislative priorities."
To see a full budget summary, visit cseany.org.