Publisher's Note: Negotiating legally-enforceable contracts that determine our pay, benefits and working conditions is one of the most important ways our union allows us to tap into our collective power, but all too often we only scratch the surface in harnessing that power.
Recently, a group of CSEA staff professionals joined with their counterparts throughout the country in a special training provided by our International union, AFSCME, to learn best practices in strategic contract campaign planning and development. Armed with this knowledge, our members will more successfully tap into their own power, build our union, and deliver stronger, better contracts.
CSEA Communications Specialist Therese Assalian was among those who attended the AFSCME training and reports here what they learned.
ALBANY — The key to winning a strong contract, particularly when facing difficulty at the negotiating table, is developing a strategic contract campaign.
CSEA staff who negotiate contracts and work closely with our members often play a major role in helping our members tap into their own power and build our union.
The AFSCME Contract Campaign Institute, presented by our International union AFSCME's Department of Education and Leadership Training, recently trained CSEA and other union staff for four days in some of the most successful contract campaign strategies used throughout the country. The training included using case studies to teach how those best practices can apply to their own contract fights.
"Contract campaigns are one opportunity where we all come together to get the best results for members," said AFSCME Education & Training Associate Director Roni Beavin, one of several training facilitators. "We haven't held this training in Albany before, but CSEA leadership asked us to come, so we were happy to bring the training here."
While the majority of the CSEA attendees were labor relations specialists who directly negotiate contracts, also receiving the training were CSEA staff who also work closely with them and our activist leadership and members in securing contracts, including staff attorneys, communications specialists, labor education specialists and occupational safety and health specialists. All brought their unique skills and perspectives to the table to highlight the many member-only resources available to campaign teams and to showcase how we increase our power through preparation and collaboration.
For their final exercise, 12 groups were formed, each charged with tackling an upcoming, real-life contract campaign for AFSCME bargaining units around the country, including those from Washington State, New Mexico, Pennsylvania, Nebraska and right here in New York.
The teams presented 12 complete strategic plans with timelines, escalating tactics, themes, messaging and targets, not only for contract outcomes, but to enhance member mobilization and union growth.
"The hardworking CSEA staff from throughout New York and our affiliates from around the country really impressed us with their cumulative knowledge. They shared so many good strategies and feedback," Beavin said. "CSEA is a vibrant union with a real commitment to training and leadership."
Attendees said they realized new perspectives on how to approach future contract campaigns.
"The AFSCME contract campaign training gave me a whole new respect for those who negotiate contracts," said CSEA Long Island Region Communications Specialist Wendi Bowie. "It also helped me to gain a greater understanding of the importance of developing strong messaging we can share to gain public support."
"I am very pleased I was able to attend this training," said Paul Peters, a labor relations specialist in our Western Region. "It was a great experience meeting people from other states and hearing the challenges we face when it comes to negotiating contracts. I took home some new ideas that I will be using during our upcoming negotiations."
— Therese Assalian and Ove Overmyer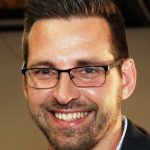 "The training really highlighted for me this bigger thing that is the work we do collectively, apart and more importantly, together. It's a reminder that we need to reach outside of our own silo to have the best outcome for members."
— Josh Kemp, CSEA Occupational Safety & Health Specialist