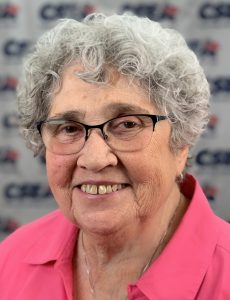 ALBANY — CSEA members throughout the state have elected current union president Mary E. Sullivan to continue to lead our union for the next four years.
In a voting process overseen by the American Arbitration Association, secret ballots from union members were counted on Feb. 13 at their Manhattan offices. Sullivan was the winner, securing the largest number of votes, besting three other candidates vying for the union's top leadership post.
Sullivan's term began March 1, 2020 and will continue through Feb. 29, 2024. Sullivan assumed the position of CSEA President on Nov. 1, 2019, following the retirement of longtime president Danny Donohue.
"I am grateful our members put their faith in me and our leadership team to continue our challenging work ahead," Sullivan said. "We will keep bringing workers together to fight for our piece of the American Dream, and to build a stronger and more inclusive union that delivers better working conditions for our members, and better public services for all of New York."
Sullivan has been a union activist for more than 35 years, starting her career as an employee of the Herkimer County Department of Social Services and advancing through the union ranks. Sullivan was elected statewide executive vice president in 1994, serving in that role for 25 years.
Also elected to CSEA statewide office were: 
CSEA Executive Vice President Denise Berkley, who is employed at Brooklyn Developmental Center in the Metropolitan Region. A longtime union activist on all levels of our union, Berkley had previously served as our union's Statewide Secretary from 2008 until her election to her current post. 
CSEA Statewide Secretary Richard Bebo, who had previously served as president of our New York State Department of Transportation (Albany) Local and is a program aide at the agency. He also served as the CSEA Capital Region Executive Vice President before his election to statewide office.
CSEA Statewide Treasurer Nicole Meeks, who had previously served as president of our City of Syracuse White-Collar Unit, and is an accountant II at the city. She also served as Central Region Treasurer before her election to statewide office. 
Our union also held elections for region officers, Board of Directors and AFSCME delegates. Full election