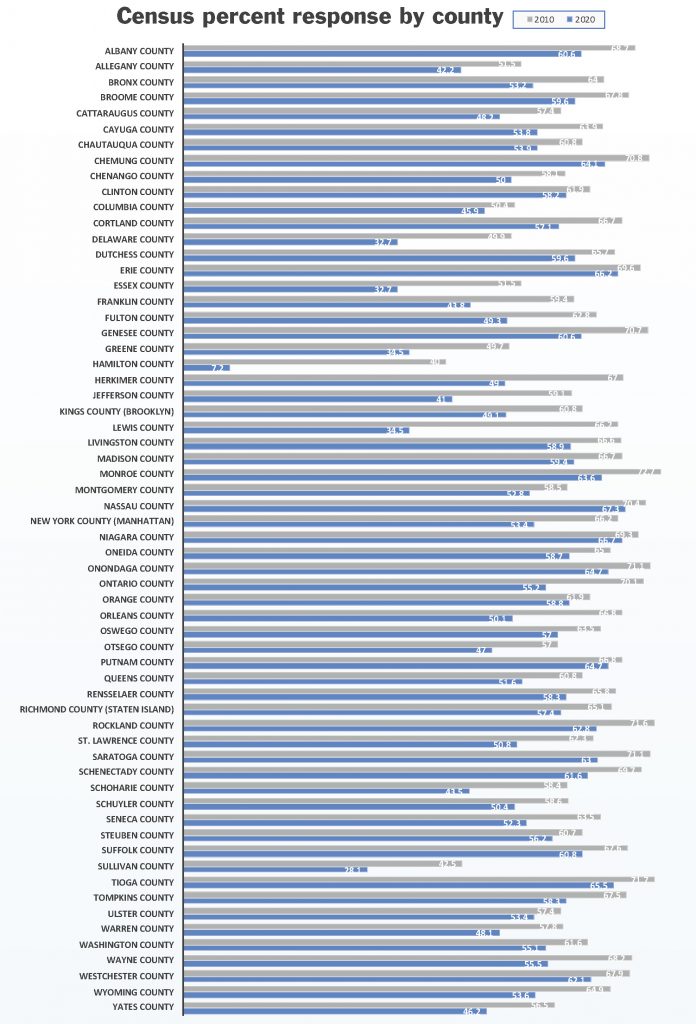 As this edition went to press, the 2020 U.S. Census response rates across New York state lagged behind our state's response rates in 2010.
The national census self-response rate was 60.9 percent in mid-June. New York continues to trail much of the nation in its Census response rate, ranking 37th out of 52 states and territories with a 56.2 percent response rate.
Within our state, responses vary widely. As of mid-June, Nassau County had the state's highest response rate at 67.3 percent. Hamilton County ranked lowest, with only 7.2 percent of households responding. See the response rates for your county in the chart on this page.
The response rates to date on the 2020 Census show two troubling trends: that rural counties are lagging behind suburban and urban counties in their response rate and that no counties in our state have surpassed their 2010 response rates.
During that year, only 69 percent of New Yorkers responded to the census, which cost our state $120 billion in federal funding.
It's crucial that we get an accurate response to the census, as the counts determines how $675 billion in federal funding will be distributed. This money helps fund many of the essential public services that CSEA members provide. In light of the COVID-19 pandemic and our ongoing fight to save public services, an accurate count is more important than ever.
Census workers will not begin knocking on doors until August 11 because of the COVID-19 pandemic. The new census response deadline is Oct. 31.