For working women, one of the largest steps toward achieving equality on the job is through union membership.
Unions have helped people gain economic security through good wages, strong benefits and fairness in the workplace. At the conclusion of their careers, unions help ensure people have a dignified, secure retirement through pensions and benefits.
The benefits of union membership are particularly important for working women, who are still embroiled in the fight for equality in the workplace.
"Women have always faced an uphill struggle competing for recognition and equality in the workplace," said CSEA President Mary E. Sullivan. "Over the years, we've been able to leverage our power as union members to make progress on our concerns."
The union difference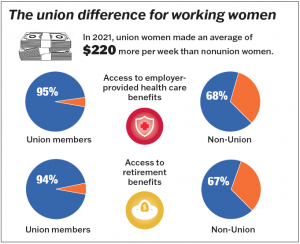 An AFL-CIO report notes that 42% of working women in the U.S. are the primary earners for their households. Women also predominantly hold jobs with lower pay.
For women, union membership is particularly important.
The U.S. Department of Labor's Bureau of Labor Statistics noted that in 2021, union women made an average of 23% more than nonunion women.
As of 2019, the latest year available, 95% of union members had access to employer-provided health care benefits, as opposed to 68% of nonunion workers. Similarly, 94% of union members had access to retirement benefits, as opposed to 67% of nonunion workers.
As the COVID-19 pandemic has shown, unions also play a major role in protecting workers' safety and health, including fighting to ensure that workers have access to personal protective equipment, safer workstations and employee practices.
Many women, including CSEA members, hold essential jobs in fields that include health care, direct care, and child care. Women across the workforce predominantly hold other types of jobs that were deemed essential, including working in grocery and retail stores.
During the pandemic, an estimated 1.8 million women left the workforce, either through job loss or due to personal responsibilities such as child care.
Unions also led the way to securing federal funding through the American Rescue Plan to save essential services and get women back into the workforce.
Wage gap persists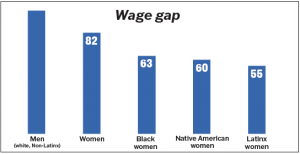 Even in 2022, working women are still fighting for equal pay. A recent study by the National Women's Law Center showed that women, on average, are paid 82 cents for every dollar that white, non-Latinx men are paid.
The disparity is even greater among most working women of color, including Black women being paid 63 cents, Native American women being paid 60 cents and Latinx women being paid 55 cents.
Using 2021's statistics, to catch up with white men's earnings in 2020, Latinx women would have had to work all the way through 2020 and through Oct. 21, 2021.
Women typically lose more than $10,000 per year to the gender wage gap, with even higher losses for many women of color. Over their lifetime, women lose an average of $406,000 to the wage gap.
Reasons for the wage gap include gender discrimination, women leaving the workforce to care for a child or another loved one and women working in greater numbers in low-paid jobs.
One of the answers to ending this wage gap is having a union.
According to the U.S. Department of Labor, being represented by a union reduces women's wage gap by nearly 40 percent, in comparison to the average pay gap of nonunion women. A union contract goes a long way toward realizing the ideal of equal pay for equal work, however, even in union shops, many jobs that are more traditionally held by women tend to be lower paid.
Women are the union
According to the Bureau of Labor Statistics' 2021 Union Members Summary, released in late January, 9.9% of working women were union members, a slight decrease from the previous year.
According to the National Women's Law Center, women make up most of the workforce in the industries in which union membership has been the most stable in recent decades, including in education and health. In government, the most heavily unionized sector, women are 57.6% of the workforce nationally.
Another trend — more women than ever are being elected to serve in leadership roles in their unions, including Sullivan, the first woman to ever be elected CSEA President, and and AFL-CIO President Liz Shuler.
— Janice Gavin