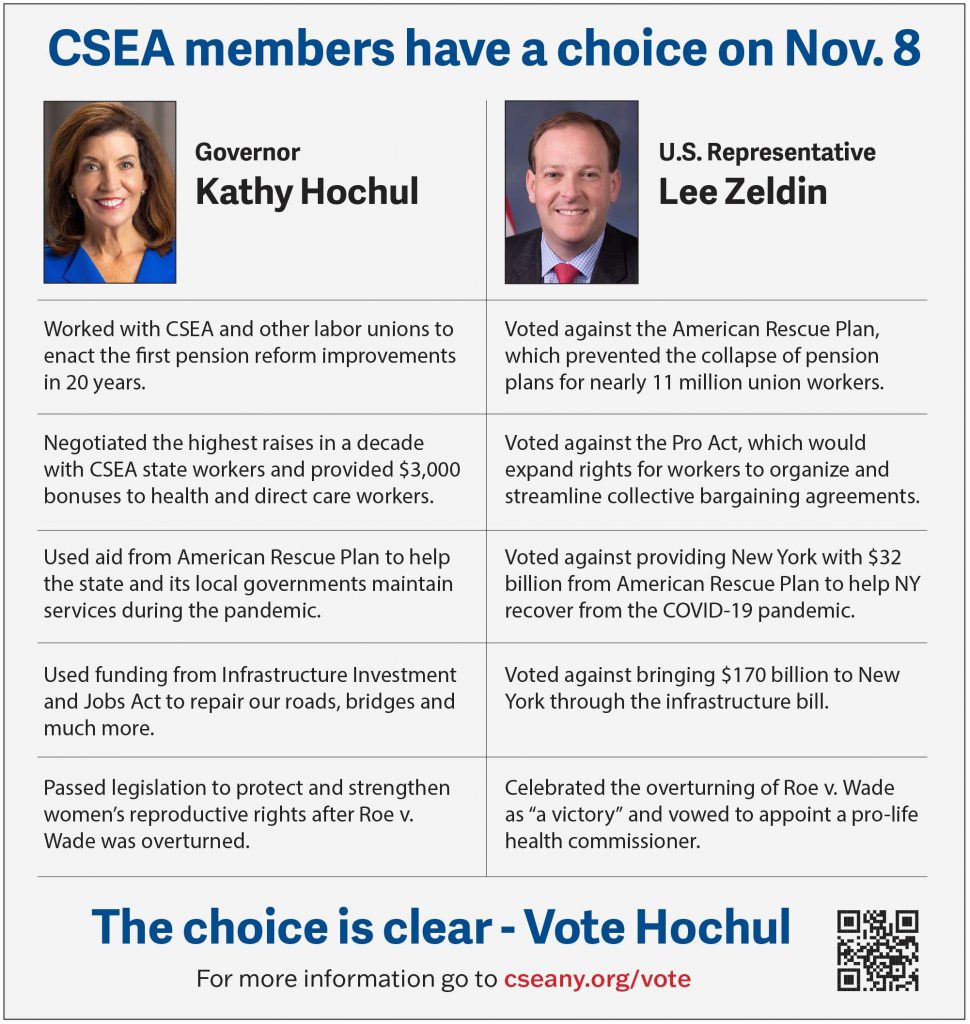 Our union has an open, member-driven endorsement process. Union members serving on political action committees interview candidates, review voting records and determine whether a candidate has CSEA members' interests in mind.
CSEA does not make endorsements based on party, but rather on who will best represent the interests of CSEA members and help protect the services union members provide.
Gov. Kathy Hochul is one official who has worked hard to protect CSEA members, and her record speaks for itself.
"Governor Hochul has repeatedly shown that she values the hard work that CSEA members do every day," said CSEA President Mary E. Sullivan. "We look forward to building on this positive start with Governor Hochul, and it's important that we support her on Election Day so that we can accomplish more."
Along with Governor Hochul, CSEA's other endorsed statewide candidates have shown strong support for working people. Lieutenant Governor Antonio Delgado, who is running with Governor Hochul, was instrumental in advocating for federal aid to New York while serving in Congress.
State Comptroller Tom DiNapoli, a longtime friend to our union, has safeguarded our pensions through sound investment and management of one of the largest state retirement funds in the country. He also strongly supports retaining a defined-benefit pension to allow public employees a secure retirement.
State Attorney General Letitia James has held employers accountable by fighting on behalf of working people against lost wages, unfair labor practices and unsafe working conditions.
U.S. Senate Majority Leader Chuck Schumer was key to New York receiving billions in federal aid through the American Rescue Plan, which is not only helping our state recover from the pandemic, but helping to rebuild our infrastructure, combat climate change and create jobs.
Make your voice heard
Your vote is your voice, and it is important that we all vote in this election. To ensure that you can vote, check your voter registration status. The last day to register to vote is October 14.
CSEA's voting webpage, cseany.org/vote, provides information on voter registration, important deadlines, ways to vote, links to voting locations, a full list of endorsed candidates and information on how to help support candidates.
CSEA supports Environmental Bond Act
New Yorkers will vote on The Clean Water, Clean Air, and Green Jobs Environmental Bond Act of 2022. This act, the first such bond act in more than 25 years, will be Proposal No. 1 on ballots statewide. New York's transition away from fossil fuels toward more renewable forms of energy is already well underway. If approved, the Environmental Bond Act will provide $4.2 billion in funding over the coming years.
CSEA supports the Environmental Bond Act and encourages members to vote 'yes' to ensure investments in the workforce and strong labor standards in our state's environmental policy. Approving the act will help provide critical funding to ensure that workers are not left behind during this transition.