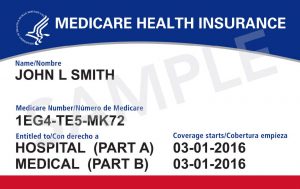 To help protect your identity, Medicare will remove Social Security numbers and begin mailing new cards to everyone who receives benefits through the federal program.
Centers for Medicare and Medicaid Services (CMS) has been directed to remove Social Security numbers from all Medicare cards by April 2019. A new Medicare Beneficiary Identifier (MBI) will replace the Social Security number-based Health Insurance Claim Number (HICN) on new Medicare cards.
Beginning in April 2018, CMS will start mailing the replacement Medicare cards with the MBI to existing Medicare enrollees.
Each MBI is a unique, randomly-generated, 11-character number made up only of numbers and uppercase letters. The characters are "non-intelligent," which means they don't have any hidden or special meaning.
The new MBI will help protect private health care and financial information and will be coordinated with the U.S. Social Security Administration and health care providers. The state Department of Civil Service, administrator of the New York State Health Insurance Program (NYSHIP), is looking at any impact the new MBI numbers will have for NYSHIP enrollees and will communicate any new information in future periodicals.
Medicare enrollees may start using their new Medicare cards and MBIs as soon as they get them.