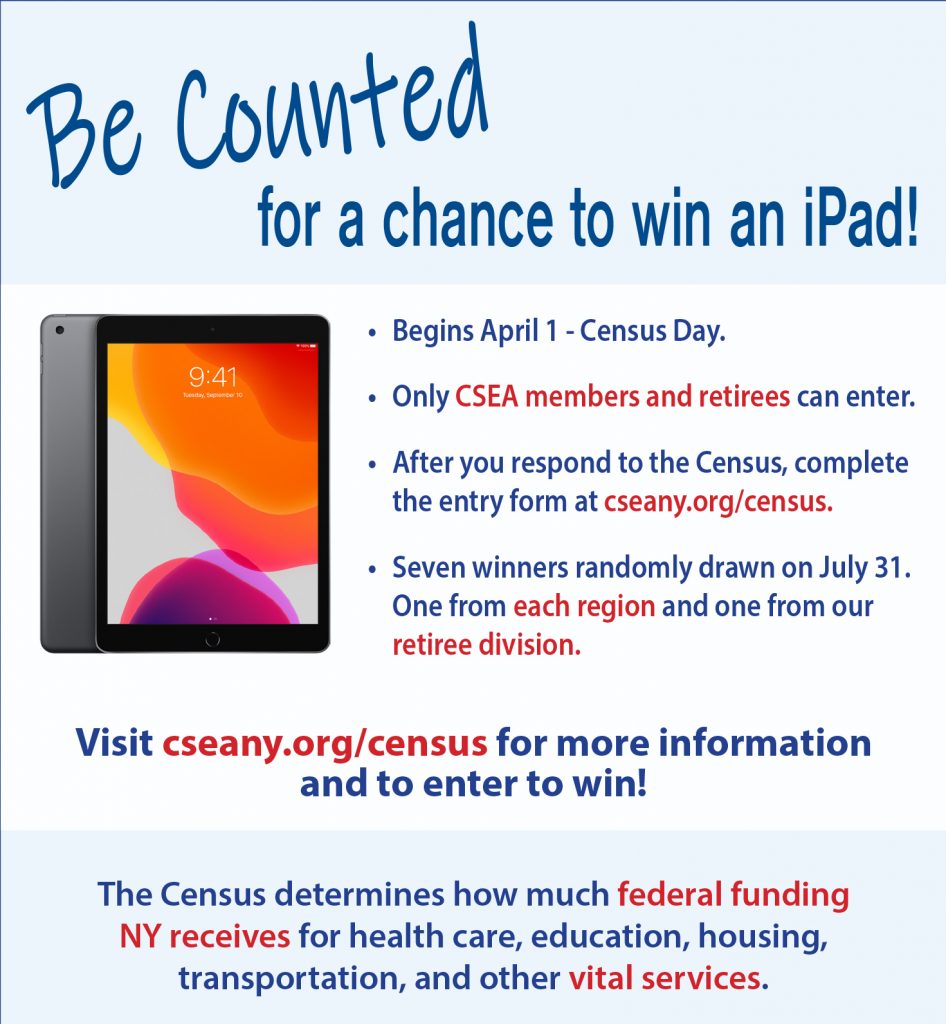 The 2020 U.S. Census is now available to be completed online.
As invitation postcards were mailed to households across the U.S., the Census Bureau also launched its online form on its website at census. gov. The census can be completed online, over the phone or by mail.
At this time, when social distancing is being promoted as the best way to prevent the spread of COVID- 19, we urge you to fill out your census form online. Not only is this the easiest way to fill out the census, but it will also limit the number of home visits census workers will have to conduct and help to promote public health.
Some households located in areas with limited internet access will receive a paper form in the first mailing. Households that have not responded online or by phone will receive a paper form between April 8-16. Census takers are due to follow up with households that have not responded later this year. Learn more about our members' efforts to ensure an accurate census count at cseany.org/census.
Online
You can respond to the census using a computer, tablet or smartphone. To access the form, visit https://my2020census.gov.
Please note that you can't save your progress; the census must be completed in one sitting. You can complete the form in English or other languages.
The quickest way to respond to the census is online with your Census ID, which easily links your response with your address. You can still respond if you don't have a Census ID.
Your Census ID can be found on the letter or questionnaire you received from the Census Bureau in March. After clicking the "Start Questionnaire" button on the online form, you will be prompted to enter your Census ID.
Phone
You have the option of completing the questionnaire by phone. To begin, call 844-330-2020, or call the number associated with your preferred language, as noted on the website's Phone Response Guide.
Mail
If you live in an area with limited internet access, you may have received a paper form along with your invitation letter. If you don't respond by phone or online, you will receive a paper questionnaire. Again, due to the coronavirus outbreak, online or phone responses are preferred.
Watch out for these census hoaxes
Responding to the 2020 U.S. Census is not only important for numerous public programs, but is safe.
The Census Bureau is dedicated to keeping your information secure, and census employees take an oath to never reveal your responses, even to law enforcement agencies.
However, there are scams and hoaxes, many of which involve impersonating census employees to get your information.
There have been reports that the "Department of Home Affairs" are going door to door to check residents' IDs for the census. Meanwhile, these people are seeking to commit a crime, likely theft of your information or property.
Firstly, there is no Department of Home Affairs. The Census Bureau employees will be clearly identifiable with U.S. Department of Commerce ID badges and will carry a briefcase indicating their affiliation with the bureau. They will explain the reason for their visit.
Census employees will not ask you for identification. They will also never ask you for your Social Security number, bank account information, credit card numbers, political affiliation or donations.
If you get a visit from someone who you suspect does not work for the Census Bureau, call your local police department or the Census Bureau at 800-923-8282.
What you will be asked
The 2020 Census will ask a few simple questions about you and everyone who is or will be living with you on April 1, 2020.
You will be asked to count everyone who lives and sleeps in your home as of April 1, 2020, including young children, roommates and any family members or friends who are living with you, even temporarily.
You will also be asked whether your home is rented or owned; your telephone number and names, ages, dates of birth, gender identification, race and national origin of all living in your home.