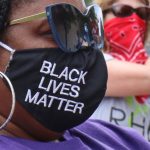 Rochester – Labor unionists, allies, friends and family joined together today to stand up and speak out on racial and economic injustice at a Black Lives Matter rally sponsored by the Rochester Chapter of the Coalition of Black Trade Unionists.
Speakers at the event included chapter president, Debbie Lee, a long time CSEA colleague, as well as NYS Assembly candidate for the 137AD Demond Meeks; Tracy Harrison, SEIU 1199; Pastor James Simmons and NYS Assembly member Harry Bronson 138AD.
CSEA Western Region Executive Vice President Tim Finnigan was in attendance along with dozens of active and retired CSEA members.
Finnigan said, "In the Labor Movement, we have always stood up and spoke out when we see racial or economic injustice. It's our history. It's in our DNA. We are here to affirm racism in not welcomed in our workplaces, our streets or in our country."
Renee Jackson, a NYS Department of Health employee and a Western Region Vice President also attended the event.
Jackson said after the rally, "CSEA has a legacy of fighting for racial and economic equality for marginalized communities—and that's why we are here today. We cannot continue the callous disregard for the health and safety of our black and brown brothers and sisters. It's time for our lawmakers to enact meaningful change – we are demanding it for ourselves and for those who feel they are voiceless."
-Ove Overmyer