Welcome to Metropolitan Region 2
CSEA Metropolitan Region 2 is home to about 14,000 active and retired CSEA members across the five boroughs of New York City.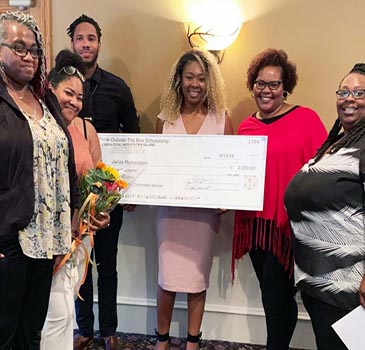 SIDC workers come together to create scholarship, end up building union
To honor a former co-worker, CSEA members at Staten Island Developmental Center established a scholarship in his memory. What they didn't realize was that they would not only be doing good deeds for their own members, but learning how to build and strengthen their union at the same time. Read the entire story.
Photo caption: Think Outside the Box Scholarship Committee members present their scholarship to Jai'da Richardson. From left, committee Secretary Janine Morgan, Chair Queen Johnson, Treasurer Joshua Holmes, Jai'da Richardson, Melyne Merritt and Co-Chair Lanette Caldwell.