Welcome to Southern Region 3
CSEA's Southern Region covers seven counties across the greater Hudson Valley area, representing workers in state government, local government, school districts, libraries, public authorities, and the private sector. The region has approximately 37,000 members across the following counties: Orange, Ulster, Sullivan, Putnam, Dutchess, Westchester, and Rockland.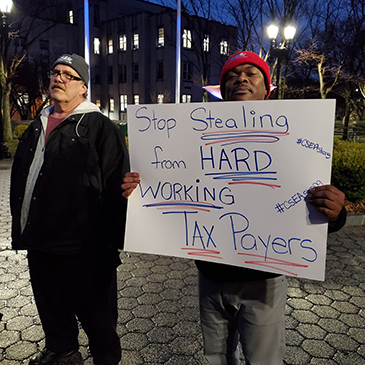 Protesting last-minute pay changes in Yonkers Schools
Union members in the Yonkers Public School District took to the streets to rally against a last-minute change to their pay structure that meant their paychecks would be smaller. Read the full story.
Join us for the 2020 Fishkill Polar Plunge
We're already planning for the 2020 Fishkill Polar Plunge, benefiting Special Olympic New York!
This year's plunge is scheduled at Camp Mariah in Fishkill for Saturday, Feb. 22, 2020 at 10 a.m. Please arrive early to complete registration and join our CSEA group. You can take the plunge with our team or still join the team but cheer from the sidelines. Further info about busing up to the plunge site will be forthcoming.
Join our CSEA team or make a tax-deductible donation by visiting our team page at https://tinyurl.com/CSEAPolarPlunge2020.
To download a paper copy of a pledge form, click here.
If you have questions or would like to learn more, please contact team captain Kathy Rodriguez at cseakrod@yahoo.com or (845) 649-4831.
Get your Southern Region 3 News