Welcome to Capital Region 4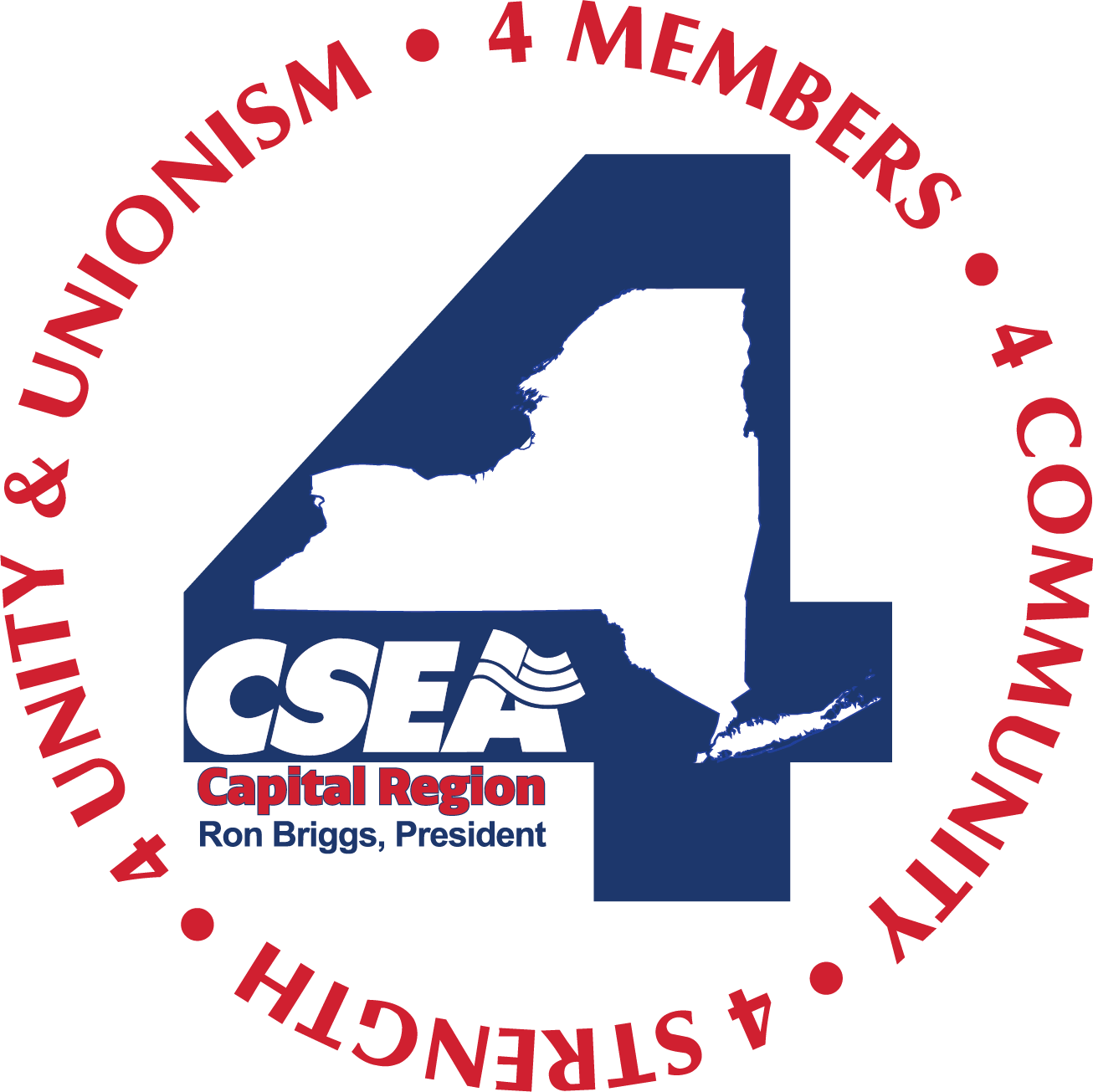 Welcome to the Capital Region
CSEA's Capital Region covers 14 counties north to the Canadian Border, east to Vermont, south into the Catskills and west to the Central Region. Supporting workers in more than 90 locals and 230 units in state government, local government, school districts, library systems, public authorities and the private sector. The region has approximately 36,000 members.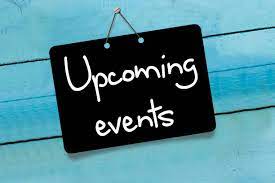 Upcoming Events
CSEA Capital Region
January 18 to February 15 – Join us for weekly With U Wednesday trainings. All sessions from 6:30-7:30pm. *Register from links below the trainings you want to attend. *CSEA account required. See below web post "Stay Connected" for instructions on creating account. 
February 1 – Health & Safety at Work
Please join Region OSH Specialist Brian Pomeroy as he discusses the latest safety and health information for workers and how you can get help if you feel there are health or safety issues in your workplace.
https://memberlink.cseany.org/Event.axd?e=785
February 8 – CSEA REGION BINGO
Join us for an hour of fun and prizes! Once registered, you will be mailed a BINGO card. So, all you will need is your favorite beverage and your computer!
https://memberlink.cseany.org/Event.axd?e=786
February 15 – Is that a Workers' Comp Claim?                                         
Join us to discuss what is and isn't a compensable workers' compensation claim.  Can I file for workers' compensation due to COVID-19?  What if I get injured while working from home?  What if I fall in the parking lot on the way to work?  What benefits am I entitled to under the law?  All your "what-ifs" and more will be answered!
https://memberlink.cseany.org/Event.axd?e=787
March 17-19, 2023 – Capital Region Spring Conference, The Sagamore, Bolton Landing
April 14-16, 2023 – Capital Region Presidents' Meeting, Golden Arrow, Lake Placid
Are you receiving our monthly newspaper, The Work Force? Are you getting emails with CSEA news, event and member benefit information? If not, it's time to create or update your CSEA account with your current address and personal email.
Here's how:
First, make sure you have your CSEA ID number. Don't know your CSEA ID#?  Find it here.
Next, use your CSEA ID to create your account from this link.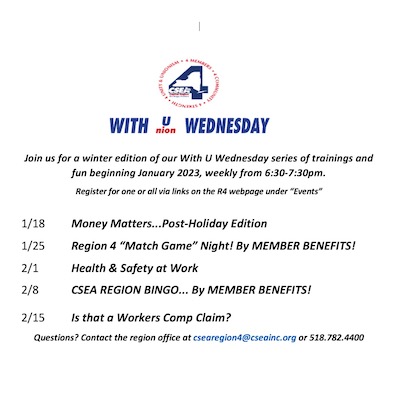 With U Wednesdays - Fun and Informative Zoom Series
With U Wednesdays 
From mid-January to mid-February, members can join a series of fun and informational zooms.
Simply scroll up to "Events" and follow the link for the zoom session you would like to participate in.
Any questions, call the Capital Region office at 518-782-4400.
"Like" our Capital Region 4 Facebook page to view more images like this and stay updated on region news and events.
Read the latest issue of The Dispatch 
CSEA's Capital Region Communications Committee works to bring you updates news and information about our region. Read, print and share to help spread the word.