Be Counted! The census count has officially started!
Fill out your Census form online today!
Be Counted!
What's at stake
CSEA members have a LOT at stake in ensuring an accurate count in the 2020 U.S. Census.
Bottom line? The services we provide are largely funded by federal dollars passed down to our state and local governments, and that funding is directly tied to the Census count.  In the last Census, it was estimated that 31% of our population failed to respond to the Census.   That cost New York $120 Billion in federal funding.   An incredible amount of funding that could have helped support our jobs and services we provide.
So CSEA members have a strong vested interest in making sure everyone, including harder-to-reach and vulnerable populations get counted. Where we may have unique access to these individuals, like immigrants, children, and the elderly, we need to make extra efforts to ensure they are counted.
In the meantime, we have developed our Be Counted! campaign to raise awareness of the census and to encourage participation by all our members.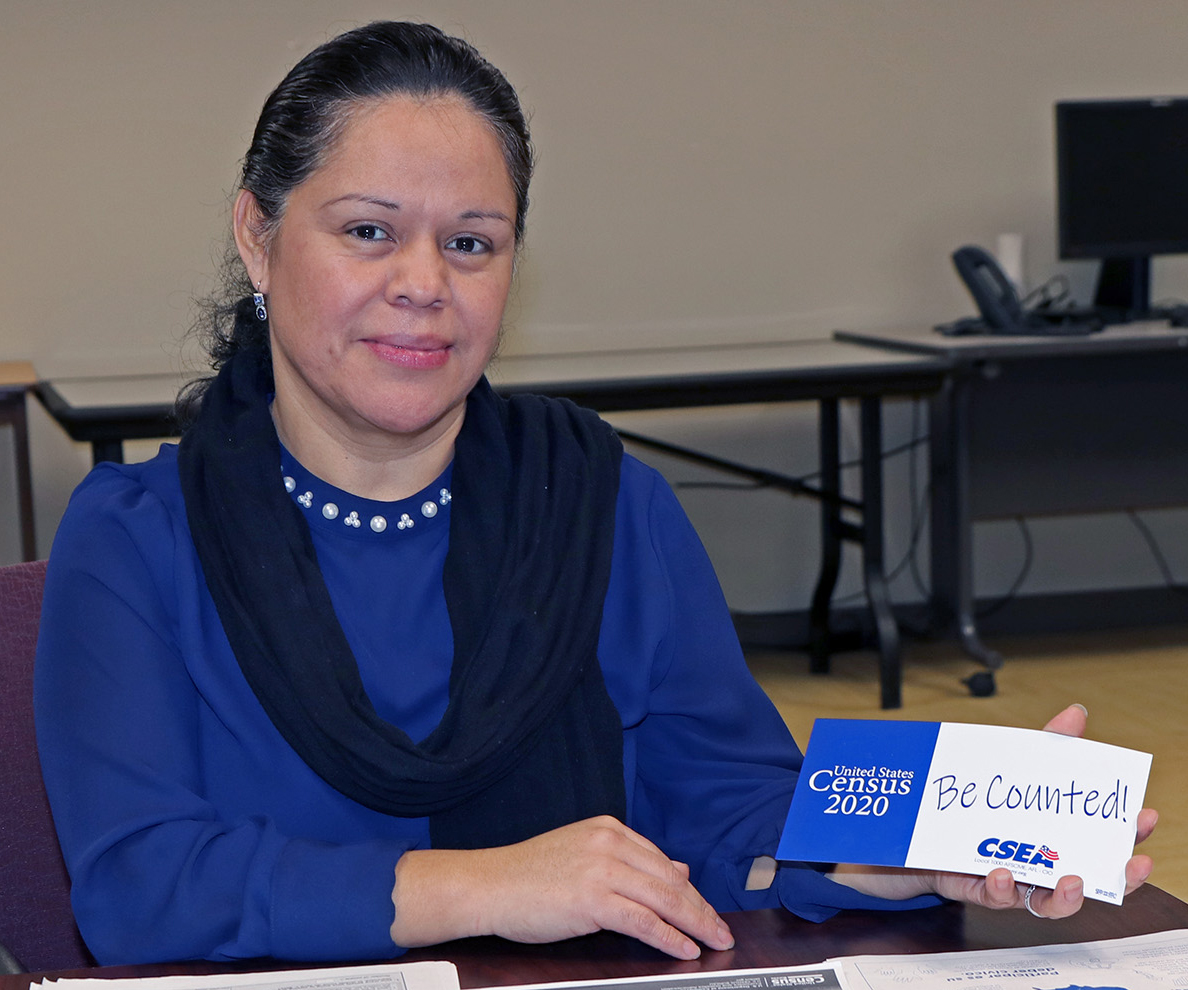 CSEA Dutchess County Unit member Gabriela Vega-Matthews is determined to get everyone counted in this year's U.S. Census.
Be Counted!
CSEA 2020 Census Resources
If you wish to have someone speak about the importance of the US Census and the role we all play at your workplace, membership meeting or other union event, please contact your Region Political Action Coordinator as follows:
We currently have several downloadable resources you can use to raise visibility and awareness. Need more than just a few? Call your Region Political Action Coordinator to request bulk supplies.
Need Census Guides in other languages? Here's where to find them .
Our union has been publishing stories in our newspaper, the Work Force, featuring the importance of the census to all our members.
Would you like your very own Be Counted! car magnet or campaign button? You can get yours by stopping by your nearest CSEA Region Office or emailing your Region Political Action Coordinator as follows:
Be Counted!
Take the Census pledge
By taking the pledge, we can all help influence our friends and family to do the same and make sure we all get counted. Share the resulting graphic on your social media pages to let everyone know that you promise to get counted and they should too!