A message from Central Region President Ken Greenleaf
A message from Central Region 5 President Kenny Greenleaf
SEPTEMBER 2023
"My Union, My Voice, My CSEA"
Hello, Central Region 5 sisters and brothers!
Throughout the course of history, and over the past several years, unions across the country have been constantly under attack. Our union has had to face challenges from anti-union groups like the Freedom Foundation and their wealthy backers. These groups relentlessly continue trying to destroy unions across the United States so they can take away our voice, diminish our salaries and benefits, and silence any political influence our union has.
We need to make sure our voices are heard loud and clear as we step up to defend our rights and the rights of working men and women across the country. Every member needs to remember, "this is my union, and I will use my voice to protect, defend, and preserve my CSEA." It is more critical than ever to stand united.
Together we can change the game in our fight against the Freedom Foundation and other anti-union groups. We will not be deterred, undermined, or underestimated in our resolve to stay union and stay strong!
We will not stand idly by and let anyone try to diminish the middle class. We must stand united to fight for working peoples. We must send a clear message that we are a force to be reckoned with. We must show that we will continue to grow, build, and keep our great union organized. We will continue to use our voices, and no one should ever be allowed to take that away.
Our activists from across the state and around the Central Region continue to step up their games. Officers, stewards, committee members, and staff represent our union every day. They are the voices for our members when they cannot speak for themselves.
We need to have a solid plan, in both the short and long term, to move our union forward. We need to do better, be bolder, and not be afraid of taking chances on making the necessary changes needed to keep our great union stronger. In order to do so, we need to be able to embrace and welcome diversity, new ideas and suggestions, and listen to the voices of our members. As we move into the future let us all remember that regardless of the role or title we hold, that every decision we make and action we take is to protect every one of us. To protect My CSEA!
I am reminded of a quote by Maya Angelou that I would like to share with you:
"Do the best you can until you know better. Then when you know better, do better."
I will continue to do better for our union. I will use my voice to help others. I will be part of the change needed so every member feels good about saying "This is My CSEA!"
In Unity,
Kenny Greenleaf, President
CSEA Central Region 5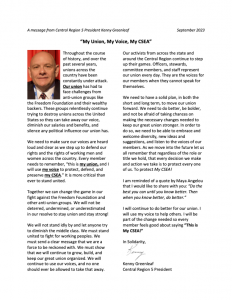 Region 5 Officers Email Contacts:
Executive VP Chantalise DeMarco … csea5demarco@gmail.com 
1st VP Tom Hingher … thinger@twcny.rr.com
2nd VP Karen Bright … pixster2703@yahoo.com
3rd VP Andy Maroney … andrewmaroney5@gmail.com
Secretary Dan Vadala … dvadalacsea834@gmail.com
Treasurer Amy Simmons … csea5asimmons@gmail.com