Page 17 - Work Force December 2021
P. 17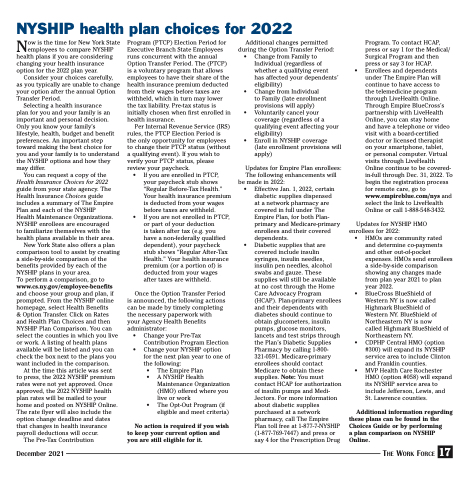 NYSHIP health plan choices for 2022
Now is the time for New York State employees to compare NYSHIP health plans if you are considering changing your health insurance option for the 2022 plan year.
Consider your choices carefully, as you typically are unable to change your option after the annual Option Transfer Period.
Selecting a health insurance
plan for you and your family is an important and personal decision. Only you know your family's lifestyle, health, budget and benefit preferences. An important step toward making the best choice for you and your family is to understand the NYSHIP options and how they may differ.
You can request a copy of the
Health Insurance Choices for 2022
guide from your state agency. The Health Insurance Choices guide includes a summary of The Empire Plan and each of the NYSHIP Health Maintenance Organizations. NYSHIP enrollees are encouraged to familiarize themselves with the health plans available in their area.
New York State also offers a plan comparison tool to assist by creating a side-by-side comparison of the benefits provided by each of the NYSHIP plans in your area.
To perform a comparison, go to www.cs.ny.gov/employee-benefits and choose your group and plan, if prompted. From the NYSHIP online homepage, select Health Benefits
& Option Transfer. Click on Rates and Health Plan Choices and then NYSHIP Plan Comparison. You can select the counties in which you live or work. A listing of health plans available will be listed and you can check the box next to the plans you want included in the comparison.
At the time this article was sent to press, the 2022 NYSHIP premium rates were not yet approved. Once approved, the 2022 NYSHIP health plan rates will be mailed to your home and posted on NYSHIP Online. The rate flyer will also include the option change deadline and dates that changes in health insurance payroll deductions will occur.
The Pre-Tax Contribution
Program (PTCP) Election Period for Executive Branch State Employees runs concurrent with the annual Option Transfer Period. The (PTCP) is a voluntary program that allows employees to have their share of the health insurance premium deducted from their wages before taxes are withheld, which in turn may lower the tax liability. Pre-tax status is initially chosen when first enrolled in health insurance.
Per Internal Revenue Service (IRS) rules, the PTCP Election Period is the only opportunity for employees to change their PTCP status (without a qualifying event). If you wish to verify your PTCP status, please review your paycheck.
• If you are enrolled in PTCP, your paycheck stub shows "Regular Before-Tax Health." Your health insurance premium is deducted from your wages before taxes are withheld.
Additional changes permitted during the Option Transfer Period:
• Change from Family to Individual (regardless of whether a qualifying event has affected your dependents' eligibility)
• Change from Individual
to Family (late enrollment provisions will apply)
• Voluntarily cancel your coverage (regardless of a qualifying event affecting your eligibility)
• Enroll in NYSHIP coverage (late enrollment provisions will apply)
Updates for Empire Plan enrollees:
The following enhancements will be made in 2022:
•
Program. To contact HCAP, press or say 1 for the Medical/ Surgical Program and then press or say 3 for HCAP. Enrollees and dependents under The Empire Plan will continue to have access to
the telemedicine program through LiveHealth Online. Through Empire BlueCross's partnership with LiveHealth Online, you can stay home
and have a telephone or video visit with a board-certified doctor or licensed therapist
on your smartphone, tablet,
or personal computer. Virtual visits through LiveHealth Online continue to be covered- in-full through Dec. 31, 2022. To begin the registration process for remote care, go to www.empireblue.com/nys and select the link to LiveHealth Online or call 1-888-548-3432.
•
Effective Jan. 1, 2022, certain diabetic supplies dispensed
at a network pharmacy are covered in full under The Empire Plan, for both Plan- primary and Medicare-primary enrollees and their covered dependents.
Diabetic supplies that are covered include insulin syringes, insulin needles, insulin pen needles, alcohol swabs and gauze. These supplies will still be available at no cost through the Home Care Advocacy Program (HCAP). Plan-primary enrollees and their dependents with diabetes should continue to obtain glucometers, insulin pumps, glucose monitors, lancets and test strips through the Plan's Diabetic Supplies Pharmacy by calling 1-800- 321-0591. Medicare-primary enrollees should contact Medicare to obtain these supplies. Note: You must contact HCAP for authorization of insulin pumps and Medi- Jectors. For more information about diabetic supplies purchased at a network pharmacy, call The Empire Plan toll free at 1-877-7-NYSHIP (1-877-769-7447) and press or say 4 for the Prescription Drug
 December 2021
The Work Force 17
• If you are not enrolled in PTCP,
or part of your deduction
is taken after tax (e.g. you
have a non-federally qualified dependent), your paycheck • stub shows "Regular After-Tax Health." Your health insurance premium (or a portion of) is deducted from your wages
after taxes are withheld.
Once the Option Transfer Period is announced, the following actions can be made by timely completing the necessary paperwork with your Agency Health Benefits administrator:
• Change your Pre-Tax Contribution Program Election
• Change your NYSHIP option for the next plan year to one of the following:
• The Empire Plan • A NYSHIP Health
Maintenance Organization (HMO) offered where you live or work
• The Opt-Out Program (if eligible and meet criteria)
No action is required if you wish to keep your current option and you are still eligible for it.
Updates for NYSHIP HMO enrollees for 2022:
• HMOs are community rated and determine co-payments and other out-of-pocket expenses. HMOs send enrollees a side-by-side comparison showing any changes made from plan year 2021 to plan year 2022.
• BlueCross BlueShield of Western NY is now called Highmark BlueShield of Western NY. BlueShield of Northeastern NY is now called Highmark BlueShield of Northeastern NY.
• CDPHP Central HMO (option #300) will expand its NYSHIP service area to include Clinton and Franklin counties.
• MVP Health Care Rochester HMO (option #058) will expand its NYSHIP service area to include Jefferson, Lewis, and St. Lawrence counties.
Additional information regarding these plans can be found in the Choices Guide or by performing
a plan comparison on NYSHIP Online.