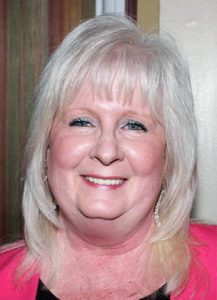 CSEA Long Island Region activist Maryann Phelps recently retired from her job at SUNY Stony Brook.
As a longtime union activist who held numerous leadership positions in her local, region and statewide, Phelps has also worked on behalf of veterans through our union's Standing and Long Island Region Veterans Committees. Most recently, she served as chair of both committees.
"With all of [my]involvement [in our union], what I found most rewarding was to be part of the veterans committees at both the region and statewide levels," Phelps said. "After all, I entered the military fresh out of high school, so it was only natural that my interest was sparked immediately at the thought of being involved."
She said she was excited to be appointed to chair the committees.
"The most rewarding part of my CSEA career was the appointments to chair the region and the Standing Veterans Committees," Phelps said. "It was also my distinct privilege to give leadership to the members of both of the veterans committees. These folks are just committed to attending meetings, discussing the topics at hand, and getting the job done. They are the people that make it all happen!"
As a member and later the chair of the committees, Phelps played a key role in helping veterans in any way she can.
"Nothing gives me greater pleasure than assisting our CSEA veterans and our nation's veterans whether it has to do with them needing a resource, food, clothing answering questions about benefits, or even to help get legislation passed," she said.
As part of the Standing Veterans Committee, Phelps played an active role in advocating for state legislators to pass the Veterans Equality Act in 2016, which gives all public employee military veterans who were honorably discharged, regardless of where or when they performed military duty, the ability to buy back up to three years of military service time for pension credit. The legislation was a major CSEA legislative priority.
"The committee worked on that legislation for many years," Phelps said. "We were all so happy when it finally passed."
Although she is retired, Phelps is committed to continuing to advocate for veterans and will continue to chair the region committee.
"I am looking forward to serving our veterans as a CSEA Retiree," she said.
— Wendi Bowie