August 23 is Primary Day for Congressional and State Senate seats
Is your voice being heard?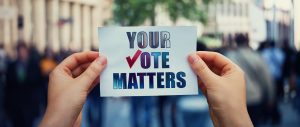 Voting is a core part of being a union member, but if you are not registered to vote, you don't have a voice. If you need to register or update your address or party affiliation, CSEA is here to help. Visit cseany.org/vote, or call the New York State Board of Elections' Voter Registration Hotline at 1-800-FOR-VOTE (1-800-367-8683).
Voting in the August 23 primary is very important, as there are several close races and we can't afford a low turnout. We have no excuses for not voting. New York makes it very convenient to vote and CSEA has all the information available in one easy spot: cseany.org/vote.
How To Vote:
There are three ways to vote in the August 23 Primary.
Absentee Ballot
You can request an absentee ballot. The last day to request an absentee ballot by mail is August 8, or in-person at your county Board of Elections by August 22. Completed and signed ballots must be postmarked by August 23.

Early Voting
New York State early voting will take place from August 13-21. Times and locations vary by county. Check cseany.org/vote for county links.
Primary Election Day
On August 23, polls are open 6 a.m. – 9 p.m. for in-person voting at your normal polling location.
CSEA Endorsements
Voting is a personal choice. CSEA simply wants to make sure your voice is heard with your vote.
CSEA has made a number of endorsements through its member-driven process. They are listed by region on our website, along with all the important voting information discussed. Simply visit cseany.org/vote