Editor's Note: This feature is the second in a series that will highlight CSEA members employed at the New York State Unified Court System. The Work Force's Jill Asencio recently spoke with Long Island Judiciary Local Vice President Darlene Devlin to learn more about her work and activism in CSEA.
Jill Asencio (JA): What is your position, and what do you do in that position?
Darlene Devlin (DD): I am a Senior Court Reporter at the New York State Supreme Court in Suffolk County. I work with a team of trained, highly-skilled professional stenographers, who ensure that an accurate record is taken of testimony in formal and informal court proceedings such as trials, hearings, oral arguments, conferences, and calendar calls.
As official Senior Court Reporters, we are considered the guardians of the record. We are completely impartial individuals tasked with preserving the record and producing verbatim transcripts in various civil matters such as matrimonial matters, commercial litigation, medical malpractice, Mental Hygiene Law, foreclosures, and personal injury litigation.
As stenographers, we use our steno machines (writers) to write down the spoken words, which at times can reach speeds of up to 250 to 300 words per minute.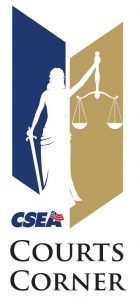 JA: How is this position important to the community you serve?
DD: Live stenographers are the gold standard in serving the legal community. The public is served by our impartiality and meticulous attention to detail, and precision in making a verbatim record of their court proceeding.
Oftentimes, parties to a lawsuit require daily or expedited services to aid in their litigation. We are able to provide immediate copy of those proceedings for the lawyers or experts to review, or to send to insurance carriers who need the testimony to make decisions on how to proceed with their case.
The judges also depend on us to provide them with testimony when they need something to either read back to a jury, or have the impartial record to make a decision in a case.
Justice would not be served for the public without the record of their court matter being certified by an official court reporter, who guards the accuracy of legal proceedings.
JA: What is rewarding about your role?
DD: We play a valuable role within the judicial system, and it is rewarding to be part of a team of court reporters who are dedicated to serving the citizens of New York State. I feel a sense of purpose when I deliver a transcript to a party and they are able to meet their deadline. It is just as rewarding when I have the opportunity to read back crucial testimony to a jury aiding them in their deliberations.
JA: Tell me why you think it is important to be in CSEA. As a court worker, what about our union makes it perfect for court workers?
DD: Our union is an integral part of having job security, as well as a work-life balance.
Before becoming an official court reporter with union representation, I worked as a freelance court reporter. [In that job], I traveled all over Long Island and New York City. There were no lunch breaks, no paid sick days and no vacation time. I worked as many as 80 hours a week. Freelance court reporters are not unionized, and their working conditions are not ideal.
CSEA is perfect for court workers because there is strength in numbers. The 5,800 judicial workers represented by CSEA stand together with our union members statewide.
The importance of that strength comes to the forefront when it comes time for CSEA to negotiate our contract with the Unified Court System. Besides negotiating our next contract, CSEA has [departments that oversee]our vision and dental benefits, member-only benefits and more. Without our union, we wouldn't have those important benefits, nor would we have health benefits or a pension to look forward to.
JA: Anything else you would like to add?
DD: Not only am I proud to be a CSEA member, but it is also my privilege to sit on the Executive Board of the Long Island Judiciary Local as Vice President, alongside the President of our local, Larry Germano. Together with [local]Treasurer Brian Young and [local]Secretary Margaret Kopacz, we are committed to always putting members first.
Because I enjoy being involved with our union and representing members. I belong to the Statewide Page Rate Committee, which sets the rate per page of transcription and steno work done after hours, as well as the Long Island Region Women's, Political Action and Social committees. Recently, I have also taken on the role of delegate for the Long Island Federation of Labor. I am grateful to have been given the opportunity to share the duties and responsibilities of my title within the courts with the CSEA membership. Together, we are Union Strong!