Editor's Note: This feature is the third in a series that will highlight CSEA members employed at the New York State Unified Court System. The Work Force's Jill Asencio recently spoke with JoAnn Terrelonge, an assistant court analyst at New York Civil Court in Manhattan, to learn more about her work and activism in CSEA.
Jill Asencio (JA): What is your position, and what do you do in that position?
JoAnn Terrelonge (JT): I am an assistant court analyst at New York Civil Court, which handles cases dealing with issues within the community. For more than 10 years, I've interfaced internally with other departments and externally with third party vendors, processing purchase orders within the five boroughs, voucher payments for criminal and civil courts reporters, per diem interpreters and staff, helping fulfill the mission of the courts to deliver timely and effective justice to everyone who comes before the courts regardless of status, background, or personal circumstances.
JA: What is rewarding about your role?
JT: As a court employee I meet interesting, diverse people within the court system, whom I am able to honestly serve, and fight for fair and equal treatment in the workplace. Most of all, I have the opportunity to provide professional quality service to employees and customers who come before the courts. I also serve as a delegate in CSEA and both roles have been rewarding.
JA: Why you think it is important to be in CSEA? 
JT: Our union provides security and excellent health benefits, vision and dental coverage and many other benefits. One thing for sure, CSEA fights to improve the working lives of ALL MEMBERS.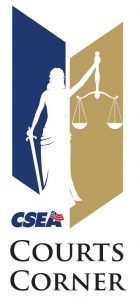 JA: As a court worker, what about our union makes it perfect for court workers?
JT: CSEA is the best! Before coming to the court system, I worked as a secretary for seven years for a private advertising firm. We had no union representation, no vision or dental coverage, mandatory overtime, no paid sick leave and definitely no job security. We were always looking over our shoulders for the unexpected pink slip. Working in the Unified Court System and having CSEA as my union gave me the job security that I need. I am glad I listened to my mother when she told me get a job with the state. 
CSEA is the best union for court workers. There is security and most of all strength in numbers. Court workers receive fair representation, and a union that will fight for fair pay, strong health benefits, retirement security, and safe working conditions. I am proud to be a third generation CSEA member. 
I am CSEA and together, we are union strong!