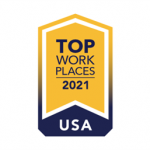 GATES, NY — The Gates Chili Central School District, which employs approximately 65 CSEA represented workers, has been awarded a Top Workplaces 2021 honor by Top Workplaces USA. The Gates Chili CSD Unit 7424 is one of 21 workplaces that comprise 2,900 members of the CSEA Monroe County Local. 
The annual Top Workplaces survey explores how organizations create and sustain a positive and productive culture and is based solely on employee feedback.   
The sense of family and diversity are just some of the reasons identified by CSEA employees on why they enjoy working at Gates Chili. Employees also feel supported with multiple opportunities for professional growth, which contributes to an inclusive, collaborative culture. 
CSEA Unit President Ray Wilson said, "It's always a good thing when you are recognized like this, especially when it's a national award. Our members are very talented and truly dedicated to their jobs." 
"Gates Chili's culture is based on relationships and attracts employees who want to make a difference for students," said Superintendent Christopher Dailey. "We are committed to helping develop all learners and take pride in our values of respect, responsibility, compassion and hard work. These values play a significant role in what makes Gates Chili so special, and we are thrilled these were recognized through the survey." 
Jim D'Amico, CSEA Monroe County Local President says the award is extraordinary considering the times we are living in. "School district employees everywhere should be very proud of the work they are doing, especially our members at Gates Chili CSD," said D'Amico. He added, "This award is reaffirmation that CSEA's positive connection with district managers and the school community is vital to the overall success of our children getting the best education possible."   
The Top Workplaces 2021 list is based on employee feedback gathered through a third-party survey administered by research partner Energage, LLC, a leading provider of technology-based employee engagement tools.  
-Ove Overmyer