Below is information for CSEA members to help guide you during the COVID-19 Pandemic on the best and safest way to exercise your right to VOTE on November 3rdElection Day.
Are you registered to vote?
Or need to update your address?
Deadline:  Applications must be postmarked no later than October 9th
https://voterreg.dmv.ny.gov/MotorVoter/
Absentee Ballot Application
New York State will now allow the use of absentee ballots for this November's Election as a safe way to vote due to the risk of COVID.
Any eligible voter can request an absentee ballot TODAY.
We encourage members to apply as soon as possible to receive your ballot in a timely manner.
NEW! Apply online for an Absentee Ballot
Download and Distribute our flyer on Absentee Ballot Applications
After receiving your absentee ballot, be sure to fill it out and return with a postmark no later then Election Day, November 3rd.
Early Voting
Early Voting period for this election will be October 24th – November 1st.
For information on where and when to early vote, find your county board of elections on this site https://cseany.org/boe-links 
Vote In Person
Election Day is November 3. Polls are open from 6 a.m. to 9 p.m. statewide that day at your usual polling places.  Find your voting location here:  https://voterlookup.elections.ny.gov/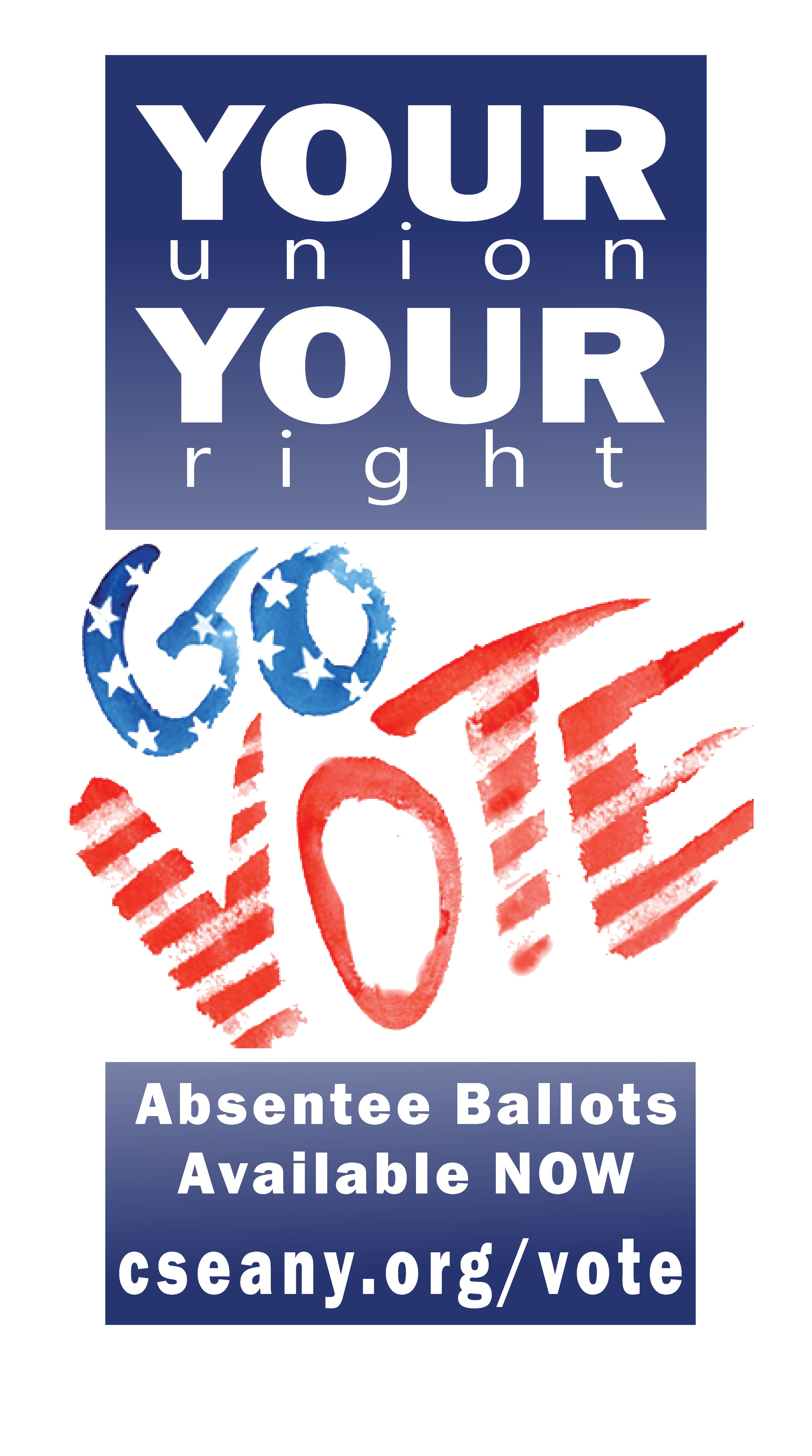 2020 CSEA Endorsed Candidates 
CSEA has a member-driven endorsement process. Candidates for office are interviewed by Political Action Committees made up of members that represent the diverse cross-section of our membership.
CSEA members take their responsibilities very seriously when interviewing and vetting candidates seeking our endorsement.  We take pride and stand by our endorsements because they are based on who will best represent the interests of our members, and protect the services we provide, regardless of political party.
Below are links to each CSEA region with a list of CSEA endorsed candidates we are supporting for November 3rd Election Day.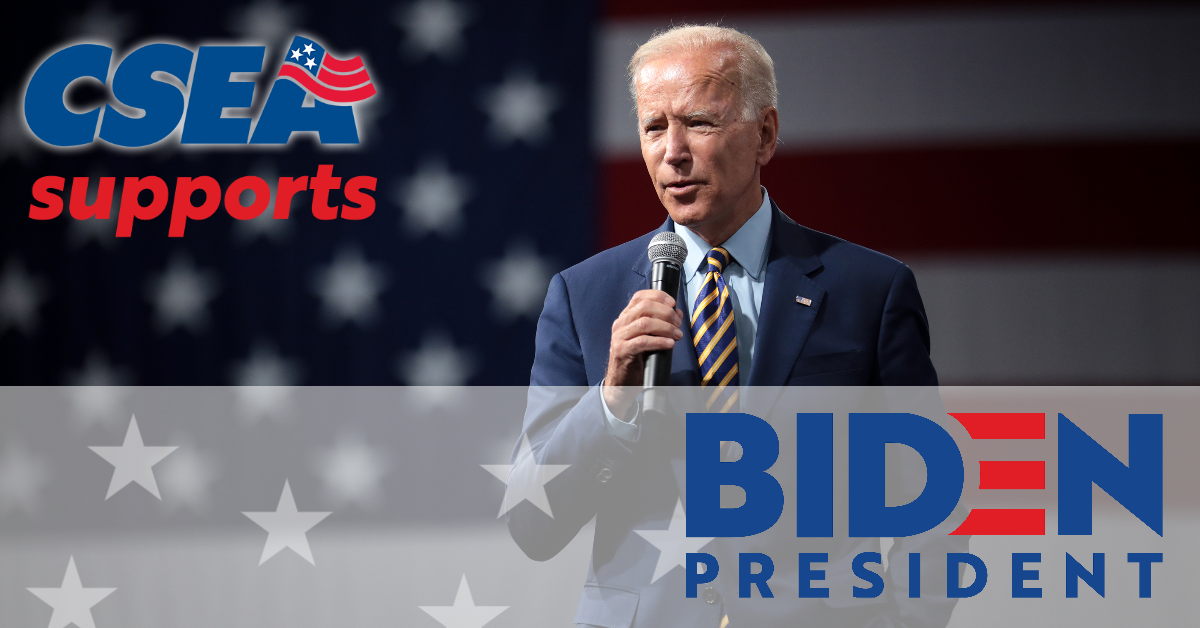 CSEA is proud to endorse Joe Biden for President, as the candidate who best aligns with the issues of working women and men, and has earned our support. Read more…
Click on the Region below to view the complete list of endorsed candidates
Region 1 - Long Island Region
US House of Representatives
Congressional District 1 – No Endorsement
Congressional District 2 – No Endorsement
Congressional District 3 – Tom Suozzi
Congressional District 4 – Kathleen Rice
NYS Senate
Senate District 1 – Anthony Palumbo
Senate District 2 – Mario Mattera
Senate District 3 – Monica Martinez
Senate District 4 – Phil Boyle
Senate District 5 – Jim Gaughran
Senate District 6 – No Endorsement
Senate District 7 – No Endorsement
Senate District 8 – John Brooks
Senate District 9 – Todd Kaminsky
NYS Assembly
Assembly District 1 – Fred Thiele
Assembly District 2 – No Endorsement
Assembly District 3 – Joseph DeStefano
Assembly District 4 – Steve Englebright
Assembly District 5 – Doug Smith
Assembly District 6 – Phil Ramos
Assembly District 7 – Jarett Gandolfo
Assembly District 8 – No Endorsement
Assembly District 9 – Michael Durso
Assembly District 10 – Steve Stern
Assembly District 11 – Kimberly Jean-Pierre
Assembly District 12 – Michael Marcantonio
Assembly District 13 – Charles Lavine
Assembly District 14 – David McDonough
Assembly District 15 – No Endorsement
Assembly District 16 – Gina Sillitti
Assembly District 17 – John Mikulin
Assembly District 18 – No Endorsement
Assembly District 19 – Ed Ra
Assembly District 20 – Melissa Miller
Assembly District 21 – Judy Griffin
Assembly District 22 – Michaelle Solages
Region 2 - Metropolitan Region
US House of Representatives
Congressional District 5 – Gregory Meeks
Congressional District 6 – Grace Meng
Congressional District 7 – Nydia Velazquez
Congressional District 8 – Hakeem Jeffries
Congressional District 9 – Yvette Clarke
Congressional District 10 – Jerrold Nadler
Congressional District 11 – Max Rose
Congressional District 12 – Carolyn Maloney
Congressional District 13 – Adriano Espaillat
Congressional District 14 – No Endorsement
Congressional District 15 – No Endorsement
Congressional District 16 – No Endorsement
NYS Senate
Senate District 10 – James Sanders
Senate District 11 – John Liu
Senate District 12 – Michael Gianaris
Senate District 13 – Jessica Ramos
Senate District 14 – Leroy Comrie
Senate District 15 – Joseph Addabbo
Senate District 16 – Toby Ann Stavisky
Senate District 17 – No Endorsement
Senate District 18 – No Endorsement
Senate District 19 – Roxanne Persaud
Senate District 20 – Zellnor Myrie
Senate District 21 – Kevin Parker
Senate District 22 – Andrew Gounardes
Senate District 23 – Diane Savino
Senate District 24 – Andrew Lanza
Senate District 25 – No Endorsement
Senate District 26 – Brian Kavanaugh
Senate District 27 – Brad Hoylman
Senate District 28 – Liz Kruger
Senate District 29 – Jose Serrano
Senate District 30 – No Endorsement
Senate District 31 – Robert Jackson
Senate District 32 – Luis Sepulveda
Senate District 33 – Gustavo Rivera
Senate District 34 – No Endorsement
Senate District 36 – Jamaal Bailey
NYS Assembly
Assembly District 23 – Stacey Pheffer
Assembly District 24 – David Weprin
Assembly District 25 – Nily Rozic
Assembly District 26 – No Endorsement
Assembly District 27 – Daniel Rosenthal
Assembly District 28 – Andrew Hevesi
Assembly District 29 – Alicia Hyndman
Assembly District 30 – No Endorsement
Assembly District 31 – No Endorsement
Assembly District 32 – Vivian Cook
Assembly District 33 – No Endorsement
Assembly District 34 – No Endorsement
Assembly District 35 – Jeffrion Aubry
Assembly District 36 – Aravella Simotas
Assembly District 37 – Catherine Nolan
Assembly District 38 – No Endorsement
Assembly District 39 – Catalina Cruz
Assembly District 40 – No Endorsement
Assembly District 41 – Helene Weinstein
Assembly District 42 – Rodneyese Bichotte
Assembly District 43 – Diana Richardson
Assembly District 44 – Robert Carroll
Assembly District 45 – No Endorsement
Assembly District 46 – No Endorsement
Assembly District 47 – William Colton
Assembly District 48 – No Endorsement
Assembly District 49 – Peter Abbate
Assembly District 50 – No Endorsement
Assembly District 51 – No Endorsement
Assembly District 52 – JoAnn Simon
Assembly District 53 – No Endorsement
Assembly District 54 – Erik Martin Dilan
Assembly District 55 – Latrice Monique Walker
Assembly District 56 – No Endorsement
Assembly District 57 – No Endorsement
Assembly District 58 – No Endorsement
Assembly District 59 – No Endorsement
Assembly District 60 – Charles Barron
Assembly District 61 – Charles Fall
Assembly District 62 – No Endorsement
Assembly District 63 – Michael Cusick
Assembly District 64 – Brandon Patterson
Assembly District 65 – Yuh-Line Niou
Assembly District 66 – Deborah Glick
Assembly District 67 – Linda Rosenthal
Assembly District 68 – Robert Rodriguez
Assembly District 69 – No Endorsement
Assembly District 70 – No Endorsement
Assembly District 71 – Al Taylor
Assembly District 72 – Carmen De La Rosa
Assembly District 73 – Dan Quart
Assembly District 74 – Harvey Epstein
Assembly District 75 – Richard Gottfried
Assembly District 76 – No Endorsement
Assembly District 77 – Latoya Joyner
Assembly District 78 – Jose Rivera
Assembly District 79 – No Endorsement
Assembly District 80 – Nathalia Fernandez
Assembly District 81 – Jeffrey Dinowitz
Assembly District 82 – Michael Benedetto
Assembly District 83 – Carl Heastie
Assembly District 84 – No Endorsement
Assembly District 85 – No Endorsement
Assembly District 86 – Victor Pichardo
Assembly District 87 – Karines Reyes
Region 3 - Southern Region
US House of Representatives
Congressional District 16 – No Endorsement
Congressional District 17 – No Endorsement
Congressional District 18 – Sean Patrick Maloney
Congressional District 19 – Antonio Delgado
NYS Senate
Senate District 35 – Andrea Stewart-Cousins
Senate District 37 – Shelley Mayer
Senate District 38 – Elijah Reichlin-Melnick
Senate District 39 – James Skoufis
Senate District 40 – Peter Harckham
Senate District 41 – Sue Serino
Senate District 42 – Jen Metzger
NYS Assembly
Assembly District 88 – Amy Paulin
Assembly District 89 – No Endorsement
Assembly District 90 – No Endorsement
Assembly District 91 – Steve Otis
Assembly District 92 – Tom Abinanti
Assembly District 93 – Chris Burdick
Assembly District 94 – Kevin Byrne
Assembly District 95 – Sandy Galef
Assembly District 96 – Ken Zebrowski
Assembly District 97 – Ellen Jaffee
Assembly District 98 – Karl Brabenec
Assembly District 99 – Colin Schmitt
Assembly District 100 – Aileen Gunther
Assembly District 103 – Kevin Cahill
Assembly District 104 – Jonathan Jacobson
Assembly District 105 – No Endorsement
Assembly District 106 – Didi Barrett
Region 4 - Capital Region
US House of Representatives
Congressional District 19 – Antonio Delgado
Congressional District 20 – Paul Tonko
Congressional District 21 – Tedra Cobb
NYS Senate
Senate District 43 – Patrick Nelson
Senate District 44 – Neil Breslin
Senate District 45 – Kimberly Davis
Senate District 46 – Michelle Hinchey
Senate District 49 – Jim Tedisco
NYS Assembly
Assembly District 102 – Christopher Tague
Assembly District 107 – Brittany Vogel
Assembly District 108 – John McDonald
Assembly District 109 – Patricia Fahy
Assembly District 110 – Phil Steck
Assembly District 111 – Angelo Sanatabarbara
Assembly District 112 – No Endorsement
Assembly District 113 – Carrie Woerner
Assembly District 114 – Claudia Braymer
Assembly District 115 – Billy Jones
Region 5 - Central Region
US House of Representatives
Congressional District 21 – Tedra Cobb
Congressional District 22 – Anthony Brindisi
Congressional District 24 – Dana Balter
NYS Senate
Senate District 47 – Joseph Griffo
Senate District 48 – Patty Richie
Senate District 50 – John Mannion
Senate District 51 – No Endorsement
Senate District 52 – Fred Akshar
Senate District 53 – No Endorsement
Senate District 54 – Pam Helming
Senate District 58 – Thomas O'Mara
NYS Assembly
Assembly District 101 – Brian Miller
Assembly District 116 – Mark Walczyk
Assembly District 117 – No Endorsement
Assembly District 118 – No Endorsement
Assembly District 119 – Marianne Buttenschon
Assembly District 120 – William Barclay
Assembly District 121 – Dan Butterman
Assembly District 122 – No Endorsement
Assembly District 123 – Donna Lupardo
Assembly District 124 – No Endorsement
Assembly District 125 – No Endorsement
Assembly District 126 – Dia Carabajal
Assembly District 127 – Albert Stirpe
Assembly District 128 – Pamela Hunter
Assembly District 129 – William Magnarelli
Region 6 - Western Region
US House of Representatives
Congressional District 23 – No Endorsement
Congressional District 25 – Joseph Morelle
Congressional District 26 – Brian Higgins
Congressional District 27 – No Endorsement
NYS Senate
Senate District 55 – Samra Brouk
Senate District 56 – Jeremy Cooney
Senate District 57 – George Borello
Senate District 59 – Patrick Galivan
Senate District 60 – Sean Ryan
Senate District 61 – Jacqueline Berger
Senate District 62 – Robert Ortt
Senate District 63 – Tim Kennedy
NYS Assembly
Assembly District 130 – No Endorsement
Assembly District 131 – Jeff Gallahan
Assembly District 132 – Philip Palmesano
Assembly District 133 – Marjorie Byrnes
Assembly District 134 – No Endorsement
Assembly District 135 – Mark Johns
Assembly District 136 – Sarah Clark
Assembly District 137 – Demond Meeks
Assembly District 138 – Harry Bronson
Assembly District 139 – No Endorsement
Assembly District 140 – Bill Conrad
Assembly District 141 – Crystal Peoples-Stokes
Assembly District 142 – Patrick Burke
Assembly District 143 – Monica Wallace
Assembly District 144 – No Endorsement
Assembly District 145 – Angelo Morinello
Assembly District 146 – Karen McMahon
Assembly District 147 – No Endorsement
Assembly District 148 – No Endorsement
Assembly District 149 – Jon Rivera
Assembly District 150 – No Endorsement