The results of the secret ballot election for CSEA's 2020 statewide elections were tabulated on Thursday, Feb. 13 at the offices of the American Arbitration Association, who conducted the elections on behalf of our union. The following are the results of that vote count:
Results of CSEA Statewide Officer Election
FOR IMMEDIATE RELEASE
THURSDAY, FEB. 13, 2020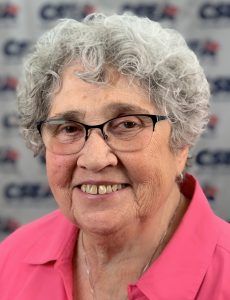 CSEA PRESIDENT SULLIVAN WINS UNION ELECTION TO LEAD FOUR MORE YEARS
ALBANY – CSEA members throughout New York State have voted to elect current union president Mary E. Sullivan to continue to lead the statewide union for the next four years.
In a voting process overseen by the American Arbitration Association, secret ballots from union members were counted today at their Manhattan offices. Sullivan was the winner, securing the largest number of votes, besting three other candidates vying for the union's top leadership post.
Sullivan's term will begin March 1, 2020 and will continue through February 29, 2024. Last November, Sullivan assumed the position of CSEA president following the retirement of longtime president Danny Donohue.
"I am grateful our members put their faith in me and our leadership team to continue our challenging work ahead," Sullivan said. "We will keep bringing workers together to fight for our piece of the American Dream, and to build a stronger and more inclusive union that delivers better working conditions for our members, and better public services for all of New York."
Sullivan has been a union activist for more than 35 years, starting her career as an employee of the Herkimer County Department of Social Services, and advancing through the union ranks. Sullivan was elected statewide executive vice president in 1994, serving in that role for 25 years.
Read Sullivan's full biography
Download Sullivan's official portrait
Also winning election to CSEA statewide office were:
CSEA Executive Vice President – Denise Berkley, Brooklyn Developmental Center
CSEA Secretary – Richard Bebo, NYS Department of Transportation
CSEA Treasurer – Nicole Meeks, City of Syracuse
Results of CSEA Region Officer Elections
CSEA Long Island Region 1
President – Jerry Laricchiuta
Executive Vice President – John C. Shepherd
1st Vice President – Mike Morris
2nd Vice President – Jarvis Brown
3rd Vice President – Diane Hansen
4th Vice President – Kelvin Lewis
Secretary –Maryann Phelps
Treasurer – Barbara Homburger
CSEA Metropolitan Region 2
(elected unopposed)
President – Lester Crockett
Executive Vice President – Vincent Martusciello
1st Vice President – Jamel Harewood
2nd Vice President – Carlota Williams
Secretary – Faye Wilkie-Fields
Treasurer – Delphine Moultrie
CSEA Southern Region 3
President – Anthony Adamo
Executive Vice President – Carole Jeannot
1st Vice President – Lizabeth Piraino
2nd Vice President – Todd A. Schmidt
3rd Vice President – Rosemarie Kukys
Secretary – Susan Fontana
Treasurer – Tatiana De Luna-Evans
CSEA Capital Region 4
(elected unopposed)
President – Ron Briggs
Executive Vice President – Shana Davis
1st Vice President – Scott Gartland
2nd Vice President – Brenda Facin
3rd Vice President – Colleen Laven
Secretary – Cynthia Stiles
Treasurer – Kim Wallace-Russo
CSEA Central Region 5
President – Kenneth Greenleaf
Executive Vice President – Chantalise DeMarco
1st Vice President – Betty Jo Johnson
2nd Vice President – Timothy A. Backus
3rd Vice President – Robert S. Eastwood, Sr.
Secretary – Michele Martin
Treasurer – Amy Simmons
CSEA Western Region 6
President – Steve Healy
Executive Vice President – Tim Finnigan
1st Vice President – Renee Jackson
2nd Vice President – Carrie Chapman
3rd Vice President – Sheri Ambuske
Secretary – Bonnie Peters
Treasurer – Colleen Hosie
Contested Board of Directors races
Local Government Representatives:
Orange County: Glen D. Arnold
Ulster County: Joseph Kirk Jones
State Government Representatives:
Environmental Conservation: John Lefebvre
Contested AFSCME Delegates races
Metropolitan Region 2
Crockett Slate
Lester Crockett
Donna Eagle
Vincent Martusciello
Evans Quamina
Jamel Harewood
William "Bill" Preston
Ajani A. Williams
Althea Green
Delphine Moultrie
Deborah Hanna
Faye A. Wilkie Fields
Southern Region 3
Your Region Your Leadership that Works for You Slate
Anthony Adamo
Guy Bilyou
Carole Jeannot
Howard Crawford
Kevin Mahler
Ken Crusie
Liz Piraino
John "Jack" Miller
Tatiana De Luna-Evans
John Wagner
Beth McDonald
Tim McNamara
Rosemarie Kukys
Tom Holahan, Jr.
Sue Fontana
Glen Arnold
Kathy Rodriguez
Jeremy Coulter
Todd Schmidt
Vivienne Brunson-Bedi
Brenda Gamble
Johnny Delgado
Denise Fuchs
Gerald Fabre
Mary Brown
Anthony Savastano, III
Fred DeStefano
Kathryn "Kathi" Bayer
Tyjuana Parker
Jacques "Jack" Auster
Bret DiBattista
Edward Jasiel
Central Region 5
Leaders for Labor United Slate
Kenneth Greenleaf
Joseph Miceli
Chantalise DeMarco
Tammy Witteman
Amy Simmons
Damon Bedrosian
Michele Martin
Theresa Reagan
Betty Jo Johnson
Catrina Leone
Timothy A. Backus
Kim Flanagan
Robert S. Eastwood, Sr.
Angela Ostrander
Jolene Radley
Ian Spencer
Allison Crowe
Helen Chetney
Theresa Young
Amy Klenovic
Karen L. Bright
David Jenkins
Kathleen Yeldon
James Jackson
Colleen DeWine
Donald Page
Dustin Young
Mark Poupore
Valarie Massulik
Lynn May
Sharon Radtke
Joseph Thompson
Beth Hall
Daniel Vadala
Laura Kelly
Matthew Harper
Western Region 6
Delegates elected
Stephen "Steve" Healy
Timothy "Tim" Finnigan
Renee Jackson
Carrie Chapman
Susan "Sue" Young
Bonnie Peters
Robert Pazik
Deborah "Debby" Morley
Mary Jo Dean
Robert Lockett
Rachel Casey
Denise Szymura
Sandra Suy
James "Jim" D'Amico
Sheri Ambuske
Robert Petruzzi
Colleen Hosie
Amy "Amy Jo" Dorler
William "Bill" Hart
Michael "Mike" Irving
Michele Weaver
Thomas "Tom" Pollizi
William "Bill" Wilkinson
Amy Owczarczak
Jeffrey "Jeff" Brzyski
Diana Rose
Ebony Rose
Marie Snyder
Jeanette McCann
Cynthia "Cindy" Troy
Wendy Detmer
Carol Rogers
Sally MacDougal
Bob Pyjas
Uncontested AFSCME Delegate Races
Long Island Region 1
Solidarity Slate (Elected Unopposed)
Nick LaMorte
Laura Gallagher
Jerry Laricchiuta
Ronald Gurrieri
John C. Shepherd
Lynne Kramer
Maria Navarro
Robert Arciello
Diane Hansen
Glen Tuifel
Carlos Speight
Kelvin Lewis
Barbara Homburger
Nancy Ianson
John Martinez
Mike Morris
Arnold Jones
Tom Skabry
James Veneroni
Jean Ahlert
Tommy Noble
Ed Serrecchia
Wally Greene
Victoria Smith
Monica Berkowitz
Patricia Acevedo
Jarvis T. Brown
Betsy Healey
Deborah McMaster
Guadalupe Johnson
Larry Germano
Theodore R. Forker
Dave Bodnar
John Mooney
Louise Melious
Maryann Phelps
Capital Region 4
Members Leading Members Slate (Elected Unopposed)
Ron Briggs
Tom Edwards
Shana Davis
Fred Gurney
Scott Gartland
Lorraine Aumic
Brenda Facin
Anthony D'Andreti
Colleen Laven
Debbi Staulters
Cindy Stiles
Jodi Aubin
Kim Wallace-Russo
Kim Teta
John LeFebvre
Pamela Wells
Elaine Alston
Joseph DiSanto
Michele Kiuber
Joe Eissing
Elizabeth Moran
Janet McKeon
Joseph F. Musso
Jenn Murdza
Carmen G. Sno
Arthur Maggy
Marnie Rounds
Dwayne Parsons
Sue Spain