2023 Local Government Elections
This year, voters elected candidates to county, city, town and village offices. These elected leaders make important policy and budgetary decisions that directly impact your quality of life every day.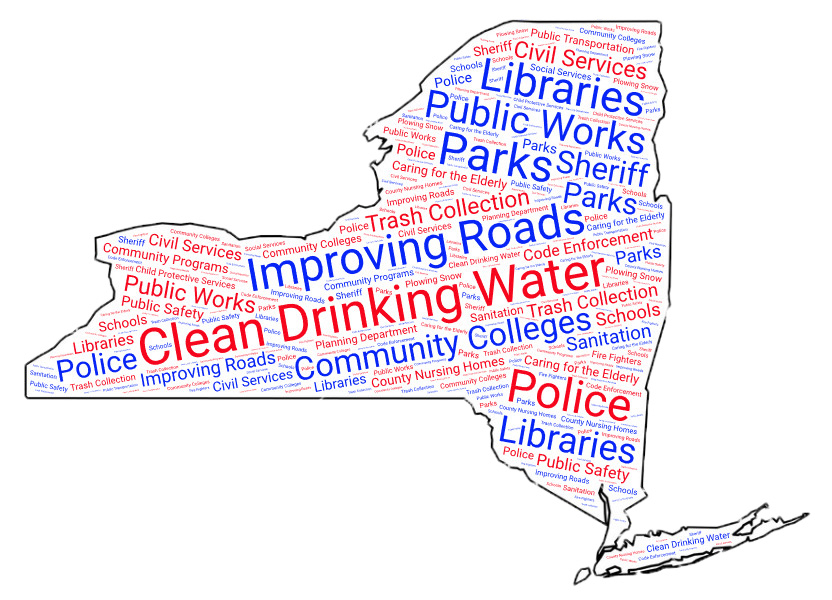 | | |
| --- | --- |
| October 28 | Last day to register to vote |
| Oct. 28 – Nov. 5 | Early Voting Period |
| November 7 | General Election Day |
To learn more or get involved, contact your region's Political Action Coordinator. Contact information is below.
There are three ways to vote:
• Absentee Ballots: All absentee ballots must be postmarked by November 7.
• Early Voting: The Early Voting Period is October 28 to November 5. Locations and times vary by county. Find your county's information
• Election Day: Election Day is November 7. Polls are open 6 a.m. – 9 p.m. Click here for your polling location
Statewide Ballot Measures
CSEA has endorsed two statewide ballot measures in this year's General Election.
Proposal 1: Remove the Debt Limit for Small City School Districts – PASSED
CSEA Position: Support
This ballot measure would remove the 5% cap on debt limits for small city school districts, defined as districts in cities with fewer than
125,000 residents, are subject to a cap on borrowing for school capital projects not to exceed 5% of taxable real property within the district. All other school districts are subject to a 10% cap.
This ballot measure would remove the 5% cap and subject the small city school districts to the same 10% cap of other districts. CSEA represents members employed at more than 30 small city school districts, which equally deserve high-quality infrastructure and facilities.
Proposal 2: Exclusion of Sewer Debt From Debt Limits – PASSED
CSEA Position: Support
For 50 years, sewer debts have been excluded from the constitutional debt limits of municipalities to allow them to issue debt for sewer facilities without limiting their ability to pay for other capital improvements. This ballot measure extends the exemption until 2034; this continued exemption would allow funding to maintain and improve municipal infrastructure. Thousands of CSEA members across the state provide infrastructure services.
Long Island Region 1
Click on links to see your county:
NASSAU COUNTY
Nassau County
Siela Bynoe – County Legislature 2 – WON
Sheharyar Ali – County Legislature 3 – LOST
Patrick Mullaney – County Legislature 4 – WON
Joseph Baker – County Legislature 5 – LOST
Benjamin Jackson – County Legislature 6 – LOST
Howard Kopel – County Legislature 7 – WON
John Giuffre – County Legislature 8 – WON
Scott Strauss – County Legislature 9 – WON
Mazi Pilip – County Legislature 10 – WON
Michael Giangregorio – County Legislature 12 – WON
Thomas McKevitt – County Legislature 13 – WON
C. William Gaylor – County Legislature 14 – WON
John Ferretti – County Legislature 15 – WON
Arnold Drucker – County Legislature 16 – WON
Rose Walker – County Legislature 17 – WON
Samantha Goetz – County Legislature 18 – WON
James Kennedy – County Legislature 19 – WON
Town of Oyster Bay
Joe Saladino – Town Supervisor – WON
Richard LaMarca – Town Clerk – WON
Jeff Pravato – Receiver of Taxes – WON
Vicki Walsh – Town Council – WON
Laura Maier – Town Council – WON
Steve Labriola – Town Council – WON
Town of Hempstead
Donald Clavin – Town Supervisor – WON
Kate Murray – Town Clerk – WON
Jeanine Driscoll – Receiver of Taxes – WON
Thomas Muscarella – Town Council 2 – WON
Melissa Miller – Town Council 3 – WON
Laura Ryder – Town Council 4 – WON
Chris Carini – Town Council 5 – WON
Town of North Hempstead
Jen DeSena – Town Supervisor – WON
Edward Scott – Town Council – WON
James Gounaris – Town Council –  LOST
David Franklin – Town Council –  LOST
Mary Jo Collins – Receiver of Taxes – WON
City of Long Beach
Brendan Finn – City Council – WON
Chris Fiumara – City Council – WON
Michael Reinhart – City Council – WON
SUFFOLK COUNTY
Suffolk County
Dave Calone – County Executive – LOST 
Jim Mazzarella – County Legislature 3 – WON
Nick Caracappa – County Legislature 4 – WON
Steve Englebright – County Legislature 5 – LOST
Ryan McGarry – County Legislature 7 – LOST
Sam Gonzalez – County Legislature 9 – WON
Town of Southampton
Bill Pell – Town Council – WON
Town of Riverhead
Timothy Hubbard – Town Supervisor – WON
Town of Huntington
Brooke Lupinacci – Town Council – WON
Town of Brookhaven
Dan Panico – Supervisor – WON
Lou Marcoccia – Tax Receiver – WON
Jonathan Kornreich – Town Council 1 – WON
Jane Bonner – Town Council 2 – WON
Neil Manzella – Town Council 3 – WON
Mike Loguercio – Town Council 4 – WON
Neil Foley – Town Council 5 – WON
Karen Dunne Kesnig – Town Council 6 – WON
Town of Babylon
DuWayne Gregory – Town Council – WON
Terence McSweeney – Town Council – WON
Metropolitan Region 2
QUEENS COUNTY
Melinda Katz –District Attorney – WON
NEW YORK CITY COUNCIL
Bronx:
Kevin Riley – Council Seat 12 – WON
Brooklyn:
Mercedes Narcisse – Council Seat 46 – WON
Southern Region 3
Click on links to see your county:
DUTCHESS COUNTY
Dutchess County
Sue Serino – Dutchess County Executive – WON
Brad Kendall – Dutchess County Clerk – WON
Matt Weishaupt – Dutchess County District Attorney – LOST
Town of Wappinger
Joseph Cavaccini – Town Supervisor – WON
Christopher Phillips – Town Council Ward 3 – WON
ORANGE COUNTY
Town of New Windsor
Stephen Bedetti – Town Supervisor – WON
ROCKLAND COUNTY
Rockland County
Doug Jobson – County Legislature 1 – WON
Jay Hood – County Legislature 3 – WON
Itamar Yeger – County Legislature 4 – WON
Lon Hofstein – County Legislature 5 – WON
Alden Wolfe – County Legislature 6 – WON
Toney Earl – County Legislature 8 – WON
Ray Francis – County Legislature 10 – LOST
Will Kennelly – County Legislature 11 – WON
Aron Wieder – County Legislature 13 – WON
Aney Paul – County Legislature 14 – WON
Thomas Diviny – County Legislature 16 – WON
Town of Clarkstown
George Hoehmann – Town Supervisor – WON
Mark Woods – Town Council Ward 1 – WON
Mike Graziano – Town Council Ward 2 – WON
Donald Franchino – Town Council Ward 3 – WON
Patrick Carroll – Town Council Ward 4 – WON
Bob Milone – Highway Superintendent – WON
Town of Orangetown
Jerry Bottari – Town Board – WON
SULLIVAN COUNTY
Sullivan County
Nicholas Salomone – County Legislature 4 – WON
Joe Perrello – County Legislature 7 – WON
Terry Bernardo – County Legislature 9 – TOO CLOSE TO CALL
Town of Fallsburg
Michael Bensimon – Town Supervisor – WON
Jeff Weiner – Town Council – WON
Paula Grogan – Town Clerk – WON
ULSTER COUNTY
Ulster County
Jen Metzger – County Executive – WON
Keith Gurgui – County Legislature 4 – LOST
Gregory McCollough – County Legislature 6 – WON
Debra Clinton – County Legislature 16 – WON
City of Kingston
Steve Noble – Mayor – WON
Sara Pasti – Alderperson, Ward 1 – WON
Jeanne Edwards – Alderperson, Ward 4 – WON
Town of Lloyd
David Plavchak – Town Supervisor – WON
Mark Elia – Town Council – WON
WESTCHESTER COUNTY
Westchester County
Colin Smith – County Legislature 1 – WON
Margaret Cunzio – County Legislature 3 – WON
Vedat Gashi – County Legislature 4 – WON
Benjamin Boykin – County Legislature 5 – WON
Nancy Barr – County Legislature 6 – WON
Emiljana Ulaj – County Legislature 9 – WON
Terry Clements – County Legislature 11 – WON
Tyrae Woodson-Samuels – County Legislature 13 – WON
David Tubiolo – County Legislature 14 – WON
James Nolan – County Legislature 15 – WON
Shanae Williams – County Legislature 16 – WON
City of White Plains
Jenn Puja – City Council – WON
Victoria Free Presser – City Council – WON
Jeremiah Frei-Pearson – City Council – WON
City of Yonkers
Mike Spano – Mayor – WON
Capital Region 4
Click on links to see your county:
ALBANY COUNTY
Albany County
Dan McCoy – County Executive – WON
Craig Apple – Sheriff – WON
Matthew Peter – County Legislature 5 – WON
Samuel Fein – County Legislature 6 – WON
Andrew Joyce – County Legislature 9 – WON
Alison McLean Lane – County Legislature 14 – WON
Bill Ricard – County Legislature 17 – WON
Alison Thorne – County Legislature 19 – LOST
David Mayo – County Legislature 20 – WON
Jennifer Whalen – County Legislature 21 – WON
Andre Claridge – County Legislature 22 – LOST
Paul Burgdof – County Legislature 23 – LOST
Kyle Simmons – County Legislature 25 – TOO CLOSE TO CALL
Patrice Lockart – County Legislature 26 – WON
Dustin Reidy – County Legislature 30 – WON
Matthew Miller – County Legislature 36 – WON
Town of Coeymans
George McHugh – Supervisor – TOO CLOSE TO CALL
Town of Colonie
Peter Crummey – Town Supervisor – WON
Julie Gansle – Town Clerk – WON
Kristen Blais – Town Board – WON
Rick Field – Town Board – WON
Paul Nylin – Town Board – LOST
Kimberly Cuva – Receiver of Taxes – WON
CLINTON COUNTY
Clinton County
John Zurlo – County Clerk – WON
Rick Hazen – County Legislature 5 – LOST
FULTON COUNTY
Richard Giardino – County Sheriff – WON
Tom Roehl – County Supervisor Ward 3 – TOO CLOSE TO CALL
RENSSELAER COUNTY
City of Troy
Carmella Mantello – Mayor – WON
Brad Lewis – City Council President – LOST
Peggy Kownack – City Council 1 – LOST
Ryan Brosnan – City Council 2 – WON
Aaron Vera – City Council 4 – WON
Irene Sorriento – City Council 5 – WON
Carol Harvin – City Council 6 – LOST
SCHENECTADY COUNTY
Schenectady County
Richard Patierne – County Legislature 1 – WON
Richard Ruzzo – County Legislature 1 – WON
Gary Hughes – County Legislature 2 – WON
Haileab Samuel – County Legislature 2 – WON
Michelle Ostrelich – County Legislature 3 – WON
Thomas Constantine – County Legislature 3 – WON
Anthony Jasenski – County Legislature 4 – WON
Holly Vellano – County Legislature 4 – WON
Town of Glenville
Kurt Semon – Town Board – LOST
Brendan Gillooley – Town Board – WON
Robert Kirkham – Town Board – WON
Town of Niskayuna
Jaime Lynn Puccioni – Town Supervisor – WON
Jessica Brennan – Town Board – WON
William McPartlon – Town Board – WON
Central Region 5
Click on links to see your county:
CAYUGA COUNTY
Cayuga County
Kristine Lytle – County Clerk – LOST 
Jonathan Anna – County Legislature 1 – WON
Aileen McNabb-Coleman – County Legislature 5 – WON
Heidi Nightengale – County Legislature 8 – WON
Elane Daly – County Legislature 9 – WON
Stephanie DeVito – County Legislature 10 – WON
Brian Muldrow – County Legislature 11 – WON
MADISON COUNTY
Town of Sullivan
John Becker – Town Supervisor – LOST
City of Oneida
Jim Chamberlain – Mayor – LOST
ONEIDA COUNTY
Oneida County
Cynthia Rogers-Witt – County Legislature 4 – WON
City of Rome
Jackie Izzo – Mayor – LOST
Eric Seelig – City Clerk – WON
John Nash – Common Council President – WON
John Sparace – Common Council, Ward 1 – WON
Ramona Smith – Common Council, Ward 4 – WON
David Sbaraglia – Common Council, Ward 7 – WON
ONONDAGA COUNTY
Onondaga County
Bill Kinne – County Executive – LOST
Marty Masterpole – County Comptroller – WON
Dan Romeo – County Legislature 7 – WON
Chris Ryan – County Legislature 8 – WON
Carrie Ingersoll-Wood – County Legislature 10 – TOO CLOSE TO CALL
Ken Bush – County Legislature 13 – WON
Maurice Brown – County Legislature 15 – WON
Nodesia Hernandez – County Legislature 17 – WON
City of Syracuse
Chol Majok – Common Council at large – WON
Rita Paniagua – Common Council at large – WON
Jimmy Monto – Common Council 5 – WON
Town of Manlius
John Deer – Town Supervisor – WON
Mike Nesci – Town Council – WON
Heather Waters – Town Council – WON
Alissa Italiano – Town Council – WON
OSWEGO COUNTY
City of Fulton
Jim Rice – Mayor – WON
TOMPKINS COUNTY
City of Ithaca
Cynthia Brock – Common Council Ward 1 – LOST
Western Region 6
Click on links to see your county:
CHAUTAUQUA COUNTY
Chautauqua County Legislature
Bob Bankoski – County Legislature 2 – WON
Susan Parker – County Legislature 4 – WON
Terry Niebel – County Legislature 5 – WON
Frederick Larson – County Legislature 12 – WON
City of Jamestown
Eddie Sundquist – Jamestown Mayor – LOST
Village of Fredonia
Athanasia Landis – Mayor – LOST
ERIE COUNTY
Erie County
Mark Poloncarz – Erie County Executive – WON
April Baskin – County Legislature 2 – WON
Mike Kooshoian – County Legislature 3 – WON
John Bargnesi – County Legislature 4 – WON
Tim Meyers – County Legislature 7 – WON
John Gilmour – County Legislature 9 – WON
Deb Seeber – County Legislature 10 – LOST
Town of Amherst
Angela Marinucci – Amherst Town Council – WON
Mike Szukala – Amherst Town Council – WON
City of Buffalo
Leah Halton-Pope –  Buffalo Common Council (Ellicott) – WON
Zeneta Everhart – Buffalo Common Council (Masten)  – WON
Town of Cheektowaga
Brian Nowak – Cheektowaga Supervisor – TOO CLOSE TO CALL
Darryl Stachura – Cheektowaga Highway Superintendent – LOST
Town of Hamburg
Dan Kozub – Hamburg Town Board – WON
Frank Bogulski – Hamburg Town Board – WON
Town of Tonawanda
Carl Szarek – Tonawanda Town Council – WON
Town of West Seneca
Molly Martin – West Seneca Town Clerk – TOO CLOSE TO CALL
Scott Robertson – West Seneca Town Council – WON
MONROE COUNTY
Monroe County
Adam Bello – Monroe County Executive – WON
Marv Stepherson – County Legislature 3 – WON
Terry Daniele – County Legislature 5 – LOST
Mel Callan – County Legislature 9 – LOST
Howard Maffucci – County Legislature 10 – WON
John Baynes – County Legislature 11 – WON
Mike Yudelson – County Legislature 12 – WON
Susan Hughes-Smith – County Legislature 14 – WON
Dave Long – County Legislature 16 – WON
Lystra McCoy – County Legislature 18 – WON
Tom Sinclair – County Legislature 19 – WON
Mercedes Vazquez-Simmons – County Legislature 22 – WON
Linda Hasman – County Legislature 23 – WON
Carolyn Delvecchio Hoffman – County Legislature 25 – WON
Yversha Roman – County Legislature 26 – WON
Rose Bonnick – County Legislature 27 – WON
Ricky Frazier – County Legislature 28 – WON
William Burgess – County Legislature 29 – WON
NIAGARA COUNTY
Niagara County
Christopher McKimmie – County Legislature 3 – WON
Jeffery Elder – County Legislature 4 – WON
Carla Speranza – County Legislature 12 – TOO CLOSE TO CALL
City of Lockport
John Lombardi – Mayor – WON
Tara Clayton – Lockport Common Council – LOST
Kathryn Fogle – Lockport Common Council – WON
Somers Sherman – Lockport Common Council – LOST
Luke Kantor – Lockport Common Council – TOO CLOSE TO CALL
City of North Tonawanda
Joseph Lavey Jr. – North Tonawanda City Council – WON
Frank DiBernardo – North Tonawanda City Council – WON
Joseph Marranca – North Tonawanda City Council – WON
Political Action Coordinators