MONTICELLO — Our members working for the Sullivan County Sheriff's Office Corrections Division have a new contract in place after fighting for a fair agreement for nearly seven years.
CSEA members and Sullivan County legislators recently ratified the agreement, which runs retroactively from Jan. 1, 2013 through Dec. 31, 2019.
As negotiations stretched on, our members became fixtures at monthly legislature meetings, urging elected officials to agree to treat them fairly.
"The solidarity shown by our membership through their organized contract campaign played a key role in moving this contract process along," said Southern Region President Billy Riccaldo.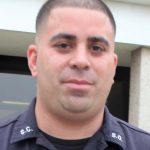 "Despite the long hours we work, our members repeatedly took their own time to stand together at legislature meetings and let our county leaders know that the resolution of our contract negotiations had to be their priority," said Sullivan County Sheriff's Office Corrections Division Unit President John Wagner Jr.
"Sticking together as a strong union, we reached an agreement with the county that we hope to build upon in subsequent negotiations."
Moving forward, unit members plan to continue addressing concerns over staffing levels and mandatory overtime, both of which have been constant due to high worker turnover.
With the county set to soon open its newly-constructed jail, workers are gearing up for the impact the move from the current jail, built in 1909, will have.
The move also coincides with the recent opening of the nearby Resorts World Casino and Hotel, the impact of which on the jail population has not yet been fully determined.
— Jessica Ladlee