HAMPTON BAYS — With the colder weather approaching, municipalities all over Long island are preparing their communities for ice and snow.
Thanks to CSEA members in the Town of Southampton Unit who work for the town's Parks and Recreation Department, residents don't have to worry about preparedness because our members are always on top of their game.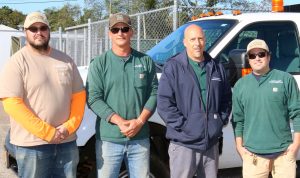 "We have a mechanic on staff who takes care of the maintenance for all of the equipment," said Site Crew Leader Mathew Mordente. "We also mark the parking lots so we don't hit the curbs when we're clearing out snow."
"We get the salt that the Highway Department has stored in their yard and we have it delivered to our department yard so we'll have it for the guys that clear the sidewalks," said Mordente.
When winter weather inevitably hits, unit members are prepared to deal with the unpredictability of Mother Nature.
"During the week, we try to come in early if we notice some snow or ice forming," said Maintenance Mechanic III Matthew Krops. "When the weather is bad, we come in at 4 a.m. and get all of the facilities open and the parking lots and walkways salted so that everyone else can come in."
Typically, when a snowstorm comes through, unit members work through the duration of the storm.
When needed, unit members work with the town's Highway Department to ensure the town is ahead of the storm."Sometimes if [town Highway workers]have a downed truck or broken equipment, we may get a call to help them load a truck or clear a certain section of a road with the sander," said Krops.
Year-round responsibility
Our members also are happy to field requests from town residents year-round.
"People will approach us and tell us that something is broken or that they need more garbage cans in a particular area," said Mordente. "We also have a lot of events in our parks, especially for seniors. We get a lot of positive feedback for the work that we do for them."
Our members at the Parks and Recreation Department do so much that it's hard to put a limit on their responsibilities.
Even in the warmer months, our members stay busy maintaining parks, setting up for park events, cleaning beaches and maintaining the marinas.
There really isn't anything that we don't do," said Maintenance Mechanic I Kenny Williams. "The plumbing, electric, the landscaping — we do it all."
With such a large area to cover, predictability isn't much of a possibility.
"At any moment, an incident could occur that changes our schedule for the day," said Groundsworker II Brian Bowden. "If there's vandalism in the park, like a broken window in the bathroom, fixing it becomes a priority."
With the recent pine beetle epidemic on the east end, our members have seen a spike in the number of dead trees that they need to clear.
Clearing those trees is especially important since so many local residents use park trails to exercise.
Because our members work in so many areas of the town, it's very important to them that people know that their jobs aren't just limited to the parks.
"People think that we just take care of the parks and beaches, but we also remove garbage for all of the town facilities and we recycle," said Mordente. "We maintain historic cemeteries and we're one of the first communities to use the green mowers."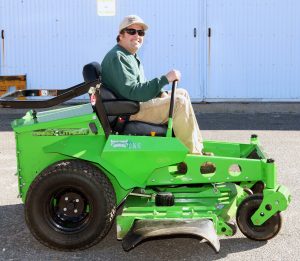 In the last two years, the town began using electric mowers at the East Quogue Village Green and Southampton Town Hall.
"It really helps lower the amount of fumes emitted into the air and helps control noise levels," said Bowden. Through all of their labor-intensive work, our members never forget their personal ties to the community.
"A lot of us live in this community, and we want to be proud of how it looks," said Krops. "It feels good to be able to look at something and say, 'I fixed that."
— Wendi Bowie