HEWLETT — An old saying is that all roads lead to Rome.
Based on heavy patronage, the same can be said for the Hewlett-Woodmere Library, where CSEA members work together to host events at the library that draw both nearby residents and residents from surrounding communities.
Our 33 Hewlett-Woodmere Library Unit members work tirelessly to ensure that the free services at the library are at the highest level for patrons. The Hewlett-Woodmere Library is one of the few libraries that is open seven days a week until 9:00 p.m., The summer season is the only time the library doesn't offer extended hours.
"There are general responsibilities that we know we always have to get done," said Librarian and Hewlett-Woodmere Library Unit President James Hartmann. "We're always ordering new supplies, making sure the computers are running properly and tending to the grounds. But, any minute, a teacher can come in and ask for our help with a big project, so there are always changes."
Members plan a variety of programs for local residents, including movie nights, live animal shows, coding classes and concert performances. Many of the events take place in the library's 200-seat theater.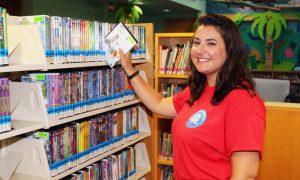 "Programming has increased tremendously over the past few years," said Librarian and Hewlett-Woodmere Library Unit Recording Secretary Alicia Rispoli. "Parents want extracurricular activities for their kids that provide a learning experience in a fun way. We try to gear our programs toward families and gear our workshops toward specific age groups. We also provide programs that the entire family can enjoy together."
Maintaining the building
In between the busy program schedule, the building maintenance crew works hard at keeping the library facilities clean and safe, including waxing the floors, replacing carpets and patching walls.
In addition to making sure the building stays visually appealing, the building and maintenance crew must contend with unexpected projects.
"Anything random could happen during the day that I have to immediately address," said Assistant Head Custodian and Hewlett-Woodmere Library Unit 1st Vice President Andrew Dachtera. "It could be anything from the hot water not running to the faucets leaking or fixing door locks."
The maintenance crew also sets up, and breaks down, rooms for the programs that are held at the library.
Responding to residents
Having also grown up in the community, the Hewlett-Woodmere Unit officers are happy to help residents through the various stages of their lives.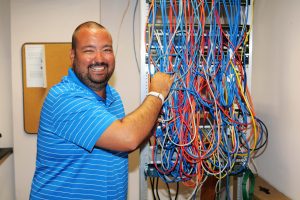 "We have an SAT preparation class as well as a financial planning program," said Hartmann. "With all of the programs and workshops that we conduct, we work with residents through some important periods of development."
Always prioritizing the needs of the community, unit members are sure to craft programs that are responsive to the needs of residents.
"This is not just us coming in and telling library patrons what we're going to do," said Hartmann. "We have advisory boards where we work collaboratively with the members to assess their wants and needs."
Members also participate in community outreach through attending Parent-Teacher Association meetings and visiting local senior centers, which helps them keep their pulse on community needs.
"We're not just sitting here and waiting for people to come to us," said Rispoli. "We go out into the community to make connections."
"Amazon may be able to get you a book in two days, but they don't offer customer service the way we do," said Hartmann. "They can't suggest books to you based on your personal interests."
The tight-knit unit has a great working relationship that helps them work cohesively and further develop additional community-based programs.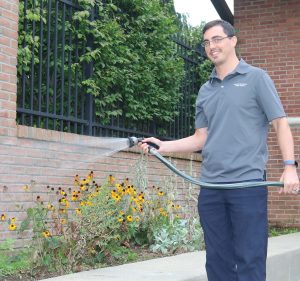 "I enjoy gardening and had started doing a bit of it here," said Dachtera. "Once everyone saw that I was a good gardener, I was approached to help with the family garden story time program."
"The program has really taken off since Andrew has been involved," said Hartmann. "We all have that spark in us that makes us want to make our programs better."
The public's response to our members' hard work couldn't be better. In fact, the library has frequent patrons from surrounding communities that do not call the Hewlett-Woodemere Library their home library.
"We get a lot of positive feedback from the public," said Rispoli. "We feel lucky to have the resources to offer so many programs. The possibilities are endless."
— Wendi Bowie