When winter snowstorms hit our area, CSEA members work in the most treacherous weather to continue to provide critical services for community members.
Beyond the hardworking drivers that plow our state and local roads, there are a slew of our members, who represent many types of career titles, who provide services that have to be rendered, no matter the weather.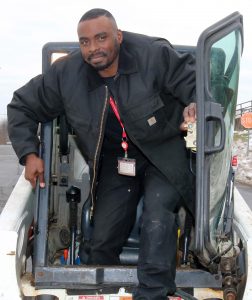 One of those members is Melson Cobb, who is a groundskeeper at Stony Brook University Hospital. He put in very long hours to ensure that community members could enter the hospital through the storm.
"Groundskeepers in this unit usually get to work two or three hours before the storm for prep work," said Cobb. "We need to make sure that our equipment is ready. We salt the grounds and go over an overall game plan on how to deal with the storm we're facing."
During major blizzards, like the one that took place on Jan. 4, Stony Brook University Hospital groundskeepers work around the clock to ensure snow is cleared so hospital workers, patients and visitors can successfully park their cars and safely walk to the hospital.
"We work through the duration of the storm," said Cobb. "We eat here and we sleep here."
Making the intense workload a bit easier is the camaraderie unit members share.
"I always say that teamwork makes the dream work," said Cobb. "Everyone here knows that the first priority is safety."
"We don't want anyone taking on more than they can handle, so we make ourselves available as much as we can if someone needs some backup or relief," said Cobb.
Occasionally, during storms, equipment breaks down. When that happens, our quick-thinking CSEA members have learned to improvise.
"Sometimes, we have to make things work because you're in a tough spot and the job has to get done," said Cobb. "I call it a Rube Goldberg."
Cobb is referencing a Rube Goldberg machine, which is named after the cartoonist who often depicted complex contraptions in his work, in which a series of devices that perform simple tasks are linked together to produce a domino effect in which activating one device triggers the next device in the sequence.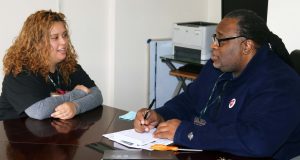 Preparing for the long night ahead
Other members provide critical services for individuals receiving services at Pilgrim Psychiatric Center. When inclement weather approaches, our members take the proper precautions to ensure they are where they need to be when the storm strikes.
"Because I knew the storm was approaching, I took precautions and packed an overnight bag with all of my necessities," said Maryory Sanchez, a mental health therapy aide at Pilgrim Psychiatric Center. "I figured I would get mandated [mandatory overtime], so I wanted to be prepared."
Sanchez wound up being at her work site for 24 hours.
"I worked my shift, the next shift and four hours on the nightshift," said Sanchez. "I did get a four-hour break, but it's really hard to get decent sleep."
Sanchez's break was taken in an empty ward that the housekeeping staff, who are also CSEA members, clean up in anticipation of workers needing to stay at the center during the storm.
Being that Sanchez has two young children, child care can be a cause for concern when she has to work extra hours. Luckily, her boyfriend was home from work and was able to watch their kids.
As you can imagine, getting home after her shift also presented itself to be a bit of a problem.
"I usually take a taxi, but they weren't answering the phone," said Sanchez. "I ended up having to use an Uber because they are the ones that responded to my call."
Sanchez's feelings sum up how important our members take their responsibility to the communities they serve.
"You don't bring the feeling of being tired or stressed into your work," said Sanchez. "We're here to help and provide support. That's what it's all about."
— Wendi Bowie