CONCORD, MASS. — Our nation's military veterans have long been close to the hearts of our union's members, many of whom are veterans themselves.
In addition to working on behalf of our veterans through CSEA veterans' committees, our members also spend personal time fighting for those who fought for us.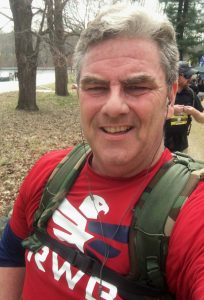 One of those members is Sean O'Brien, a residential supervisor at the Nassau County Assessment Review Commission, who walked more than 26 miles in the Tough Ruck marathon.
Tough Ruck is a group of both military members and civilians who ruck (hiking over rugged terrain in full military gear or hiking with gear in a backpack) in honor of our fallen service members, police, firefighters and other emergency first responders, raising money for families in need, while carrying the names of the fallen.
Tough Ruck has an official partnership with the Boston Athletic Association, the same group that organizes the Boston Marathon.
This is O'Brien's first year participating in Tough Ruck, and he's off to an excellent start.
"I was able to more than quadruple my initial goal of $450 by raising about $1,875," O'Brien said.
"As a whole, the event brought in over $800,000."
O'Brien was able to raise donations by sending emails, posting on social media, starting a crowdrise (a for-profit crowdfunding platform used to raise charitable donations) and word of mouth.
Tough Ruck participants used to walk in the Boston Marathon, but the location was changed due to new safety precautions regarding backpacks and large bags that were put in place after the 2013 Boston Marathon bombing.
A U.S. Marine Corps. veteran, O'Brien belongs to several veterans' organizations, one of which is Team RWB (Red White and Blue), that he marched with in Tough Ruck.
RWB's mission is to connect veterans with their community through physical and social activities.
O'Brien also works with Mission 22, which raises money to support the mental health of veterans.
To round out his healthy list of contributions, O'Brien teaches yoga to veterans through the Veterans Yoga Project, an organization that teaches yoga to veterans who suffer from Post Traumatic Stress Disorder (PTSD) or in other psychological distress.
It's the values he learned in the Marine Corps. that keeps O'Brien dedicated to veterans' organizations.
"The Marine Corps' motto is 'Semper Fidelis,' which means 'always faithful' and I don't think that stops once active duty ends," said O'Brien. "I want to do everything that I can to help veterans in need."
— Wendi Bowie