MANHATTAN — Alphonso Zolu left his family and home in the West African country of Liberia when he was 21 years old and headed to the United States with big dreams.
With a student visa, he went to Bronx Community College and graduated with a bachelor's degree from City College. He worked as a security guard to make ends meet and send money back home. By then, Liberia was in the midst of a bloody civil war that prevented Zolu's safe return and made him eligible for Temporary Protective Status (TPS).
Eventually, he found his dream job at the New York State Psychiatric Institute in the Engineering Department.
It was a job he held for 21 years until he was unceremoniously terminated for not producing documents related to his immigration status.
Protecting our members
Earlier this year, Zolu was summoned by his human resources department and was given a tight deadline to produce proof of his temporary protective status. Though he made every effort to produce the documents by the deadline, he was placed on unpaid leave and eventually terminated when those documents did not arrive.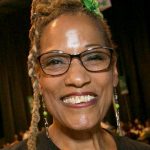 "We have to be very vigilant on this issue and advocate for our members," said CSEA Statewide Secretary Denise Berkley, who assisted Zolu. "This is something I've never seen before, but sense that we'll be seeing more often. We can't be silent and we have to educate the local, region and statewide leadership on this issue."
While Zolu's status had never been an issue, since it was customarily renewed for the last 20 years, many immigrants covered under TPS have recently become targets for deportation.
"I was heartbroken," said Zolu, who had finally obtained the documents he needed shortly after being terminated. "I felt like the facility could have done more for me considering the time and effort I have given to this job."
In addition to calling several local authorities, Zolu reached out to his good friend and former local president Joe Aravena, who was his co-worker until he recently retired.
Aravena made phone calls on Zolu's behalf to CSEA staff and union officials, including Berkley. Within a matter of days Zolu was back to work.
"I'm so thankful to Joe Aravena, Denise Berkley and my supervisor Thomas Riemenschneider," said Zolu. CSEA General Counsel Daren Rylewicz, Labor Relations Specialist John Labriel and Deputy Director of State Operations Liam Russertt also helped Zolu.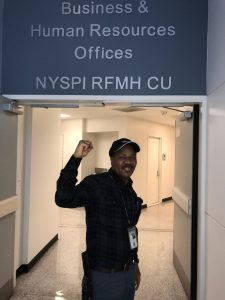 "I feel great now that I can pay my bills, look forward to retirement and all the benefits like my pension, Social Security and health care," Zolu said. "I am so confident knowing that my union is fighting for me."
It was an early Christmas gift of sorts for Zolu. "Being without a job during the holidays is very stressful," he said. "I wondered, 'How am I going to get a gift for my daughter and send money and gifts to my relatives back home?'"
No matter which country of origin we are from, Berkley insisted that we become better stewards of our brothers and sisters.
"This immigration issue is a union issue because we have a lot of members who are impacted like this," said Berkley. "He's not the only one. We need more compassion. More empathy."
— David Galarza