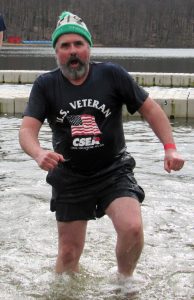 FISHKILL — More than 30 CSEA members and friends took the plunge Feb. 24 into the freezing waters at Sharpe Reservation as part of a fundraiser for Special Olympics New York that has become an annual tradition across the state for the past decade.
As this edition went to press, total fundraising proceeds for this year's Fishkill Polar Plunge were at $130,342 and counting, according to Special Olympics. Our CSEA team raised nearly $3,000, though donations were still being collected following the event.
The CSEA member turnout in support of the plunge participants was impressive, as many regular attendees were in New York City that same morning for the Day of Action rally. Pawling School District Unit President Jeff Stevens and Beacon School District Unit President Emilio Giordano oversaw the CSEA setup at Sharpe Reservation, setting up a stand with chili and hot dogs for the brave volunteers taking the plunge.
— Jessica Ladlee