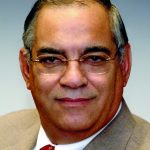 BEACON — After more than 45 years as a CSEA member, longtime Southern Region president Billy Riccaldo has a new role: CSEA retiree.
Riccaldo retired at the end of July, capping off a long career in public service and our union. He began working for Rockland County in 1973 as a maintenance helper, working his way up through a variety of jobs and eventually becoming active with our union in the 1990s.
Riccaldo first stepped up into a CSEA leadership role as vice president of the Rockland County Unit. It wasn't much longer before he won the role of Rockland County Local President.
In January 2008, Riccaldo became Southern Region President.
CSEA President Danny Donohue appointed Riccaldo as treasurer of the CSEA Employee Benefit Fund in the early 2000s, a role he continued in until his retirement. During his time as local president, he earned statewide recognition as recipient of the CSEA Mission Achievement Award.
During his years of CSEA activism, Riccaldo was active with the Rockland County Central Labor Council and the Hudson Valley Area Labor Federation. At the time of his retirement, he was acting president of the federation.
"Through his many years of service to Rockland County and our union, Billy Riccaldo has shown that he is a proud union member who knows that being involved is the best way to keep our union and communities strong," Donohue said. "On behalf of our union, I thank Billy for his selfless service in helping keep our union strong, particularly during challenging times."
Making real change
Riccaldo stepped up as a CSEA activist when he saw a need to advocate for county workers employed at the county hospital and nursing home, many of whom had a language barrier and weren't being properly informed about a pay equity study that included their titles.
"Working in maintenance, we were in all the buildings on our county campus in Pomona, and I found out that some of the people in the kitchen misunderstood and thought they were losing their jobs," Riccaldo said. "There was a lot of upset that could have been avoided. That's when I decided to step up and become active in our union."
Once he got involved and became unit vice president, Riccaldo realized the power our union had in making positive changes in the workplace.
When he learned about the superior options available through the CSEA Employee Benefit Fund dental plans, he and the unit president were able to have the county replace an inferior dental plan with EBF coverage.
"We went from a plan that was very basic and only had a few participating local dentists to bringing in EBF," Riccaldo said. "First, we were able to get an individual plan and then we negotiated family coverage.
Through our union, we were able to bring our members better coverage and save them from out-of-pocket costs that were a real hardship for working families."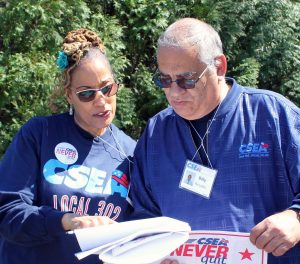 Riccaldo's years as region president took him through some challenging years for CSEA, during which we faced privatization battles, difficult contract fights, and attacks on unions. Despite the many attacks, we preserved many jobs and services, and strengthened our locals and units through member engagement and union building.
"I'm proud of so much of the work we did, but especially fighting to preserve services and the jobs where our members care for people who depend on them," Riccaldo said. "Whether it was Westchester Medical Center, our county nursing homes, our school districts, our VOICE providers, our state psychiatric centers or our state group homes for people with disabilities, we have always advocated for vulnerable people and the workers who support and care for them. I look at groups such as our Poughkeepsie School District Unit, where our members have faced so many challenges, and am proud that we've built a stronger CSEA there despite of all the obstacles."
— Jessica Ladlee