VALHALLA – Six-year old Zechia Mickler's smile lights up a room.
If you get the chance to witness her effervescence and enthusiasm, you might never know that just a few years ago she was a patient in the Maria Fareri Children's Hospital at Westchester Medical Center.
She was struggling to breathe due to a life-threatening condition known as a diaphragmatic hernia. Swift diagnosis and surgery allowed for a full recovery.
Today, Zechia is a first-grader at Beacon's J.V. Forrestal Elementary School who is known for her bubbly demeanor and positive attitude.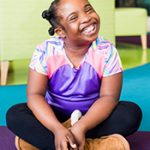 As a result of her sparkling personality and her parents' continued gratitude for the care she received at Maria Fareri, she was one of three children chosen as ambassadors for the hospital's fundraising Go the Distance and Walk and Family Fun Day scheduled for Sunday, May 7 on the hospital grounds.
Her school, where many CSEA members provide vital services, hosted an official appointment event where Zechia received a purple ambassador sash.
The event is the hospital's largest annual fundraiser and draws many former patients and their families each year.
Zechia's proud family and school community will be cheering her on. Her father, CSEA member Steven Mickler, feels passionately about raising money to enhance services at Maria Fareri and hopes to one day see a similar facility closer to home in Dutchess County.
The Mickler family raves about the care Zechia received as a patient at Maria Fareri, where CSEA represents many workers including members of the hospital's child life team, social workers, respiratory therapists, physical and occupational therapists, and more.
Steven Mickler, who works at Fishkill Correctional Facility, stressed that the high quality health insurance coverage he receives as a CSEA-represented worker alleviated the financial stress many families face following extended hospitalizations and surgeries.
He added that the support staff at CSEA's Southern Region Office was a dependable resource whenever he had questions about insurance logistics.
To show their continued gratitude, the Mickler family is raising money for the hospital through their team for the walk, Zechia's Breath-Takerz. Anyone interested in supporting the team can make a tax-deductible donation on the hospital's fundraising site.