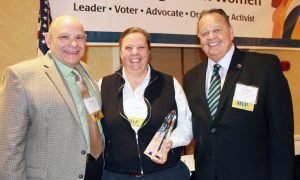 WAMPSVILLE — CSEA Madison County Local 1st Vice President Karen Bright never knew Irene Carr, who served as our union's Statewide Secretary for 17 years and was a 'trailblazer' who advanced many issues traditionally of concern to women.
However, Bright knew of her and was surprised when she learned that she would receive our union's prestigious Irene Carr Leadership Award.
The award, presented at our recent CSEA Women's Conference, honors a member who fights to advance women and families.
"I was in shock, and extremely honored," Bright said. "I have heard about and been mentored by other officers who did know Irene Carr, and knew how she left very, very big footprints in CSEA."
When Carr became a CSEA activist, leadership opportunities for women were limited. Carr was determined to play an active role in our union and urged other women in leadership roles to do so.
Carr not only founded — and chaired — our union's first Women's Committee, but was key to boosting training and job advancement opportunities, pay equity adjustments for women and minorities, improved workstation technology and worksite child care centers for state employees.
"She changed the culture in CSEA by demanding to be a peer," Bright said. "She mentored women to be fearless and to want to become officers in CSEA, and she taught them how to organize and how to be leaders."
Yet as much as Bright admires Carr's union legacy, she doesn't see herself cut from exactly the same cloth.
While Carr, was very outgoing and known as a "spitfire of energy" to many members, even leading choruses of "Solidarity Forever" at Annual Delegates Meetings, Bright said doesn't care to be at the forefront of our fights. She noted that she works hard, but quietly behind the scenes, to be a good union activist and leader.
"I think I lead more by example, and doing it with quiet competency," she said.
By day, Bright works in the Madison County Department of Social Services as a grade B supervisor in the Child Protective Services Unit. She said she tries to treat all her members, even those she supervises, with respect.
"Even though I'm in a role as a supervisor, I treat those I supervise with respect, showing that you can be in a position of supervisor, but you can still be actively engaged in the union," Bright said.
Bright said her union activism was sparked by a series of good examples from her family and other people. Her father was a United Auto Workers (UAW) member, and she remembers reading his union newsletters in the 1970s, when the auto workers went on strike.
Her biggest influence, however, was her grandmother, who was a union member working at the Libby Glass plant in Toledo, Ohio. She remembers around Easter every year, her grandmother's house would be full of Easter baskets that her union's Women's Committee collected for families in need. She also remembers her grandmother donating many gallons of blood through union-sponsored blood drives.
"It wasn't even something she talked about; it was just part of what she did," she said.
She was also influenced by the fact that her mother did not have a union.
"My mom worked in a nonunion job, and I remember how she couldn't take time off, especially if she was sick or we were sick, or for school events," Bright said. "I think a lot of that history shaped my belief in how important unions are."
Bright also credits her Local President, Betty Jo Johnson, a previous Irene Carr Award winner, with inspiring her activism.
"If my local president didn't set the example of what a real leader is — each and every day she teaches me to fight for all of our members — then I wouldn't be the winner of the Irene Carr Award," she said.
Last fall, Bright was also honored at our union's Annual Delegates Meeting as Recruiter of the Year for PEOPLE, CSEA and AFSCME's political action program.
Bright said she works hard to get people to join the program. "It's THE most important program in CSEA," she said. "If we don't have the money to fight for ourselves, we're going to cease to exist."
Humble as usual, Bright gave credit for her award-winning activism to those around her.
"I really am extremely honored and just thank all of those union leaders, activists and officers who have mentored me, and been friends and role models, for teaching me to be a better person," she said.
And as far as good people go, you don't get much better than Bright.
— Mark M. Kotzin