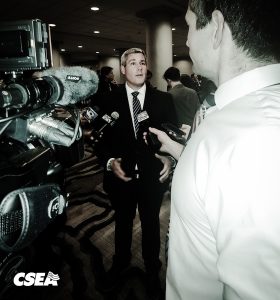 Monroe County — Adam Bello, the 39-year-old Democrat who ran on the campaign platform promoting a government that works for everyone, has won his bid to be the next Monroe County Executive. Bello will take office in January 2020.
His victory on election eve over the incumbent, Cheryl Dinolfo, brings an end to almost 30 years of anti-worker sentiment in county government. Bello, who illustrates an abrupt change in style and substance when it comes to his vision of how government should work, has pledged to heal the relationship between county administration and the workforce who deliver on the promise of providing vital essential public services each and every day.
Bello, the current county clerk and rising star in local politics, built his campaign on overwhelming support from labor unions and city voters to defeat Dinolfo.
After the results were officially announced, Bello told a room full of family and campaign volunteers, "We would not be in this position right now if it wasn't for the efforts of CSEA members and our public safety unions. I am so proud of everyone and the campaign we ran."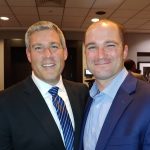 Mike Irving, a CSEA member who works for the Monroe County Water Authority said it was a long and grueling campaign. "I am really proud of our members stepping up and doing the hard work to get Adam elected. It's refreshing to know we now have a county administration that will be willing to include the workforce in discussions when tough decisions need to be made about issues of the day."
CSEA represents nearly 5,800 state and local government employees who reside in Monroe County.
In unofficial results, Bello had captured 51.5 percent of votes compared to 48.4 percent for Dinolfo. There were 4,021 absentee ballots still outstanding that won't be counted for about a week, according to the Board of Elections.
"Tonight we begin a new chapter in our community's history," Bello said in addressing an enthusiastic crowd of supporters at the Hyatt Hotel ballroom shortly after the race was called.
"We begin a future that we can be proud of and, most importantly, that our children can be proud of," he said, specifically bolstering early intervention services for children, restoring trust in government and combating societal ills referring to the opioid epidemic and breaking the cycle of poverty.
-Ove Overmyer