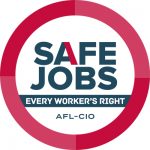 WNY — The Civil Service Employees Association and our community partners will once again observe International Workers Memorial Day by hosting several events and tributes scheduled in the coming days.
In 1989, the AFL-CIO declared April 28 "Workers' Memorial Day" to honor the hundreds of thousands of working people killed and injured on the job every year. April 28 is also the anniversary of the date the Occupational Safety and Health Act of 1970 went into effect, and when the Occupational Safety and Health Administration was formed in 1971.
For decades, in every region of the state CSEA has honored workers killed on the job while at the same time, called for strengthening health and safety standards to eliminate preventable workplace deaths and injuries.
This year's ceremonies are expected to be especially moving and heartfelt, given the recent loss of CSEA members Jeffrey Farrell from Monroe County and NYSDOT worker from Central New York Matt Howe. Both public employees died from injuries sustained during roadside accidents.
Here are some Workers Memorial Day events scheduled in Western New York:
Thursday. April 25: WNYCOSH Workers Memorial Day Event / CSEA Local 815 among others
WNYCOSH will mark this year's Workers' Memorial Day with an event that brings attention to occupational illness. Every year more than 60,000 workers are killed due to occupational illness and diseases-exposures that happen at work that may appear months or years later. In some cases, compensation funds have been established to provide for those workers and their families who have been affected by occupational disease, such as the Black Lung Disability Trust Fund for miners. The September 11th Victims Compensation Fund is one of those funds. The event will begin at Noon, at the Connecticut Street Armory, 184 Connecticut Street, Buffalo, NY 14213.
Friday, April 26: NYSDOT Rochester Workers Memorial Day Service / CSEA Local 506
This event will be held at the Town of Pittsford facility, 2797 Clover Street, Rochester, NY 14534. Please arrive no later than 9:45 am. Ceremony begins at 10:00 am.
Monday, April 29: Rochester & Genesee Valley Area Labor Federation Workers Memorial Day Service CSEA Locals 012, 436, 828, 522, 420, 506 and others
This event will begin at 5:00 pm. Participants will gather at the Worker Rights Memorial, 175 Highland Avenue, Rochester, NY 14620. At this service, a special moment will be dedicated to fallen brother Jeffrey Farrell.
Saturday, May 4: 19th Annual Chautauqua County Workers Memorial Day Ceremony / CSEA Local 807
This event will be held at 11:00 am at the Chautauqua County Workers Memorial site, Erlandson Overview Park on Oak Hill Road in Frewsburg, NY.
Monday, May 6: WNYDDSO CSEA Local 425 Workers Memorial Day Ceremony
Employees and interested observers will congregate before 11:00 am at the Memorial Marker across the street from the administration building, 1010 East and West Road, West Seneca, NY 14224. A light lunch will be provided after the ceremony.
This list of events is not complete. For additional information, you can call the Western Region office at 716-691-6555 for more details.
Feature Photo: Stacey Pettigrew, CSEA President for WNYDDSO Local 425 leads a group of employees in prayer at a 2018 service in West Seneca, NY. Photo by Ove Overmyer, ©2018.
About CSEA:
The Civil Service Employees Association (CSEA) is one of the largest and most influential unions in New York and the United States. CSEA has approximately 300,000 members and represents state, county, municipal, school district, library, child care and private sector employees. Formed in 1910, CSEA has improved the lives of hardworking New Yorkers for more than a century. It is the largest affiliate of the American Federation of State, County, and Municipal Employees (AFSCME). For more information, please visit CSEANY.org.
Media Contact:
Ove Overmyer, Western Region Communications Specialist
585-272-0800 / 716-691-6555