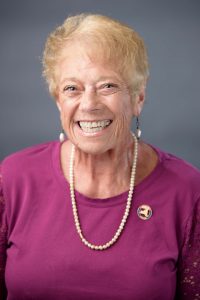 Greece, NY – Florence "Flo" Tripi, a local labor leader who tirelessly fought for social and economic justice died July 18, 2018 after a courageous battle with cancer. She was 79.
Born August 7, 1938 to Joseph A. and Phyllis (Bonavilla) Tripi, Flo was the oldest of four children. At the age of 16, she graduated from the City of Rochester's Benjamin Franklin High School in 1955. Directly after high school, Tripi attended Rochester Business Institute and received an Associate Degree as a medical secretary.
On July 8, 1968 Tripi was hired by the Monroe County Health Department and immediately became a leader in her workplace and in the community. She was a member of the Civil Service Employees Association (CSEA) and was elected as Western Region President in 2000 representing more than 45,000 workers in a 14-county area.
Her energy was boundless and contagious—challenging the status quo and motivating member activists as they fought for fair and just treatment. Tripi possessed an unparalleled wealth of institutional knowledge regarding the delivery of public services. She was a fierce, principled progressive champion who never wavered in her belief in the promise of America. Her legacy and many decades of service will ensure future generations of American workers will always have a seat at the table and a strong voice at work.
Throughout her career, Tripi served CSEA in many capacities, including president of the Monroe County Unit representing 3,000 members and first Vice President of Monroe County Local 828. Tripi also served more than a decade as a member of the executive council of the New York State ALF-CIO. Tripi was also Vice President of the Western New York Area Labor Federation and a Vice President of the Buffalo Labor Council and the Rochester Labor Council.
Tripi was steadfastly dedicated to her immediate family and to the working people she served so willingly. She is survived by her brother, Salvatore J. Tripi and sister-in-law Carol; brother-in-law David Bulterman Sr.; two nephews, David Bulterman Jr. and Joseph A. Tripi, Esq.; five nieces, Terri Ann Tripi and her fiancé Dennis Cuccurullo, Dara Oliver and her husband Kevin, Nicole Henry, Gina Tripi, and Shannon Petch and her husband: Stu; 17 great-nieces and nephews, several cousins and thousands of friends who loved her dearly. Flo was predeceased by her parents, her sister Sylvia Bulterman and her brother John Tripi.
She was a regular attendee of St. Charles Borromeo Church, a proud member of The Italian-American Community Center and will be fondly remembered as a true community activist who loved her family, her work and the New York Yankees.
-Ove Overmyer, CSEA ©2018