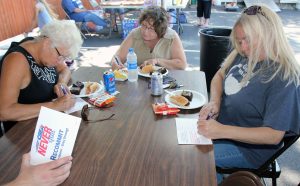 WEST SENECA — Western New York DDSO Local officers used the local's recent annual hot dog roast to urge members to stick with our union.
Local President Stacey Pettigrew, vendors representing many CSEA's member-only benefits and Labor Relations Specialist Steve Meyer were among those who explained the importance of staying union and staying strong, as well as what it means to be a proud union member.
Many attendees signed CSEA recommit cards to show their support of staying union.
"Meaningful conversations with the right people can have lasting value," Pettigrew said. "We made some good progress reaching out to our co-workers concerning their recommitment to stay with the union. Our members get it. They know we are stronger together."
— Ove Overmyer