LYONS — Soon after Wayne County officials announced in February that a Smart911 phone app service was available to every resident in the call center area, it didn't take long for local dispatchers to put the program to good use.
CSEA Supervisory Public Safety Dispatchers Katie Dean and Andrew Meyer were recently honored with the Rave SmartSave Award for making a difference in their community by going above and beyond in using the program. The award, which honors emergency responders across the country, is presented by the Rave Mobile Safety company that developed the Smart911 system and provides tech support to dispatchers and other emergency workers.
The launch of the Smart911 program was designed to dramatically improve location accuracy in the call center when a 911 emergency call is made. Residents can voluntarily go online and create a safety profile that will immediately pop up on a dispatcher's screen in case of an emergency call or a crisis situation.
Stopping a dangerous incident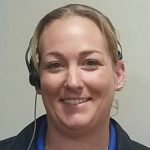 In July, the Wayne County 911 Center received several 911 calls from one particular cell phone number; each one was a hang-up with only an approximate location.
County 911 dispatchers who initially received the call attempted to contact the caller, but there was no answer. While  911 team members knew help was needed, they did not know what was happening or where the incident was taking place. Dispatchers contacted law enforcement and they were directed to the approximate location to stand by and check the area for any unusual circumstance.
CSEA member Katie Dean, a member since 2009, used the chat feature in Smart911 (a text from 911 service) to contact the number via text message.
After gaining the individual's trust, Dean learned that a domestic incident was occurring and found the exact location. The caller could not talk on the phone due to the other party's presence and out of fear the perpetrator would know the victim was contacting authorities.
Very soon after, law enforcement was updated on the incident report and re-directed the officers to the proper address to investigate the matter.
Dean's use of the Smart911 chat feature helped locate a domestic incident in progress which might otherwise have gone unreported or resulted in tragedy.
"CSEA congratulates Katie Dean for her quick thinking and dedication to the people she serves in Wayne County," CSEA Western Region President Kathy Button said.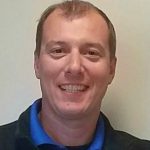 Preventing potential injury
On March 16, 2018, CSEA member Andrew Meyer received a third-party call requesting an ambulance for a caller's friend who was at a separate location.
Meyer, a member since 2004, attempted to call the patient to confirm details and check his status, but there was no answer.
Meyer also used the chat feature in Smart911 (a text from 911 service) to contact the patient via text message. In addition to ensuring the patient's status and location, Meyer was able to learn that there were potentially aggressive animals loose on the property.
With this knowledge, Meyer was able to make sure the responders were notified to stay in their ambulance until the animals were properly secured by authorities.
Meyer's use of the Smart911 chat feature saved first responders from potential injury.
"Our union congratulates Andrew Meyer for his exemplary work and dedication to the people he serves in Wayne County," Button said.
-Ove Overmyer