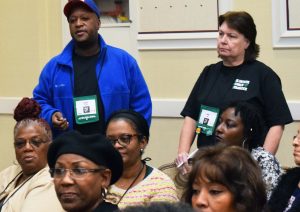 CSEA activists play a key role in helping grow our union through AFSCME's Volunteer Member Organizer (VMO) program.
As a VMO, our members help build our union through engaging potential or new members through one-on-one conversations about their workplace concerns, often at homes.
While the VMOs often work with staff organizers, the VMOs also bring something else to the table — their own experiences as union members.
During their efforts to reach out and engage potential or new members, VMOs often discuss the value of being part of a strong union, including fair pay, benefits, safer work conditions and secure retirements; standing together for fairness and justice and even access to a greater level of resources to help save money, among many other benefits.
After all, no one can better speak about the value of the union experience better than a union member.
As we continue to face challenges from anti-union groups, it's more important than ever to reach out to these workers to have one-on-one conversations. This is how we will stay strong.
Helping our union 'Rise Up'
Several CSEA activists recently joined our union sisters and brothers from around the country for AFSCME's Volunteer Member Organizer Rise Up Conference in Nevada. They learned to be better organizers and shared the successes we've been having with strengthening our union.
CSEA Southern Tier State Employees Local President Leslie Briscoe, Herkimer County Local President Beth Hall and Village of Warsaw Police Department Unit President Scott Kelly were among more than 160 union members who attended the AFSCME Volunteer Member Organizer Rise Up conference held last October.
While there, they heard from our International union leadership, participated in skill-building trainings and panel discussions, and went out and spoke with unorganized Nevada state employees.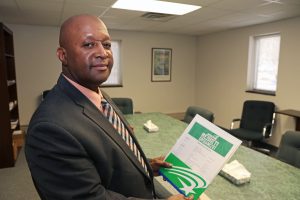 For Briscoe, a customer service representative supervisor at the New York State Insurance Fund's Workers Compensation and Disability Division in Glendale, the main lesson he learned was that most unions face similar challenges.
"No matter what state you are in, there are challenges with keeping members in the union," he said. "We need to reach out to all our members to inform them of the importance of being in our union."
He also said it was personally eye-opening to learn that Nevada state workers were earning less on average than local government workers in similar jobs, opposite of how things typically are in New York.
"I wanted to share my comparison with them of working in New York State to let them know how important it is to be union," he said.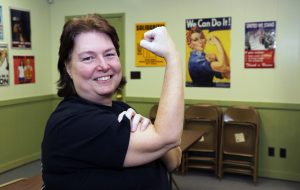 Hall, a probation officer in Herkimer County, was asked to be a panelist in a discussion entitled "the power of our stories."
She said she used the opportunity to share with attendees the successes CSEA has had with our Member Engagement Program.
"I talked about how we've done the member engagement blitzes and gone door-to-door talking to our members, and how successful that's been for us," she said. "I think CSEA is really far ahead of other unions as far as our member engagement program here in New York."
She also shared tactics for growing interest in her local union like holding lunch and learn workshops, informative trainings, and publishing newsletters.
"It basically gave me another opportunity to network with other activists throughout the country and share different ideas," Hall said.
Kelly, who works as a school resource officer, said the conference gave him an opportunity not only to network with other volunteer member organizers, but to further develop his skills.
"The skills I learned in our workshops about interpersonal communications went beyond memorizing data and facts and sharing them. I am putting all this information I learned to good use," he said. "I now feel very comfortable talking to anyone about the importance and value of union membership, especially with police, corrections and public safety officers."
Hall, Briscoe and Kelly said they appreciated the opportunity to go out and organize workers.
"You learn by doing; you don't learn by sitting at tables talking about it," Hall said. "I thank CSEA for sending me."
Hall added that it was motivating to see others who are as supportive of unions as she is.
"It doesn't matter what union you're from. People are passionate about their union and that's always a good thing," Hall said. "They care and they want to make things better for their members and make our unions stronger."
Briscoe agreed, saying, "If you're passionate about being in a union; if you believe in the union, you've got to get out and spread the word about why it's important to be a union member."
When Kelly met with the Nevada state employees, he not only noticed strong differences between public employees in New York and Nevada, but many similarities.
"We are spoiled here in New York State when it comes to unionization," Kelly said. "Many workers in other states are struggling with attempts to just be recognized in the workplace. When we went door-to-door to talk about the value of belonging to a union, almost everyone we met understood this completely. They just wanted to be represented by a union and we helped them get one step closer."
— Mark M. Kotzin and Ove Overmyer