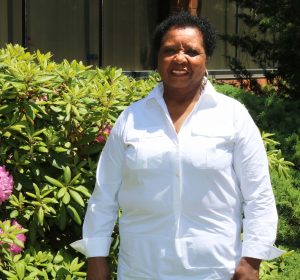 COMMACK — Even during retirement, our CSEA activists still never quit.
One of those members is Suffolk Retirees Local 920 member Shirley Baker, who has been a CSEA member since 1967.
For more than 20 years, Baker has served in various titles on our Long Island Developmental Center & Sagamore Children's Psychiatric Center Local 430 executive board, including as local president and vice president.
Outside of her job and union, Baker began serving her community in another way — as a trustee on the Wyandanch Union Free School District School Board. Even as a retiree, she continues to serve the children of her community.
The Long Island Reporter sat down with Baker to learn more about her extensive political career.
Long Island Reporter (LIR): What made you decide to run for the trustee position?
Shirley Baker (SB): Someone in the community approached me about running because she thought that I would make a good candidate.
LIR: How long have you served in that position?
SB: It's a three-year-term and this is my sixth term.
LIR: What keeps you coming back?
SB: I love advocating for the children and I want to see the plans that we make for them come to fruition. We try to work with the superintendent to figure out what's best for the children.
LIR: How do you think your background as a CSEA activist has aided you in your political career?
SB: Advocating for co-workers in Local 430 was a great training ground. I've always been active in the school because my children are a product of the Wyandanch School District.
I want to thank my union for supporting me during the election process. I was a CSEA endorsed candidate and my union sent out cards that urged community members to vote for me on Election Day.
LIR: What inspired you to enter politics?
SB: Being a union member and serving as a president and vice president in my local. I was a shop steward before I became an officer.
LIR: What made you decide to join our Suffolk Retirees Local 920 after you retired?
SB: I still wanted to be active and I like being part of CSEA. I served on the retiree board as the secretary until this last election.
LIR: What do you like about being a retiree member?
SB: I like activism. I think we need to keep abreast of everything that's going on in politics and in our communities, as it pertains to our lives.
LIR: What is one of the best experiences you've had as an activist?
SB: Being a delegate to [the 2000 and 2008 Democratic National Conventions]. Someone from CSEA Albany headquarters called me and assigned me to the position. [laughs]I still don't know why they chose me.
LIR: How did it make you feel that you were chosen to do that?
SB: It made me feel like I was on top of the world.
LIR: Recently, you were recognized for your community activism. Tell me more about that.
SB: Every year, the Wyandanch community holds Wyandanch Day. This year, they recognized a few other people and me at a ceremony attended by about 200 people. [State] Senator [Phil] Boyle sent a representative to present the commendations; mine were for activism and education. The event was held on Mother's Day and my family and friends attended.
LIR: What would you say to a member who is looking to get more involved?
SB: Just be you! Take action and get involved in your community and the schools. It's very important to know what's going on in the school that your child is attending.
— Wendi Bowie
Interested in becoming an activist?
Visit the CSEA Education and Training page: cseany.org/field-services/education-and-training-2 for a schedule of trainings, including steward training.