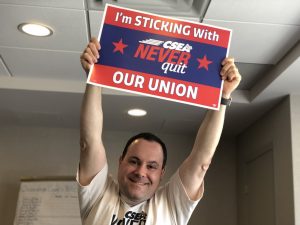 ALBANY – Longtime CSEA Communications Specialist Mark M. Kotzin has been named our union's new Director of Communications.
CSEA President Danny Donohue recently announced Kotzin's appointment, effective May 20.
Donohue said that as the senior member in our union's Communications Department, Kotzin will bring his 30 years of CSEA experience to his new role.
"I have known and worked with Mark since he started with CSEA, and he has always been regarded as someone who innovates and has a passion for telling our union members' stories and promoting the important work they do," Donohue said. "With his depth of experience, he will prove an even more valuable asset to CSEA leading our communications efforts."
Through his tenure, Kotzin has served as the communications specialist for our union's Central Region and was based at the region's office in East Syracuse.
Kotzin has directed all communications initiatives on behalf of about 45,000 union members throughout CSEA's largest geographic region, which encompasses 20 counties throughout Central and Northern New York and the Southern Tier.
Kotzin's accomplishments within CSEA include shepherding the union's regional communications into the digital era; creating and managing CSEA's annual presence at the New York State Fair and successfully promoting labor-community partnerships, such as with Special Olympics, for which CSEA members throughout Central New York have raised more than $200,000 over the past 11 years.
Kotzin has also served on numerous statewide strategic planning workgroups and committees.
Over his career, his photographs and articles in union publications, including The Work Force, have been honored numerous awards from labor communications trade groups.
As our union's Director of Communications, Kotzin will not only lead our union's 12-person Communications Department, but oversee our union's printing and mailing operations.
"I'm honored to have been offered this role and responsibility and look forward to ensuring the voices of working New Yorkers who belong to our great union continue to be heard, and that their rights are protected," Kotzin said. "I relish this opportunity to serve our members in this new capacity."
He is a proud 2012 graduate of the Leadership Greater Syracuse Program. As a professional communicator, he previously served on the boards of the Central New York Chapter and Northeast District of the Public Relations Society of America.
Outside of his work, he has been involved in various community causes, including serving on the board of Temple Concord in Syracuse and leading their annual Christmas holiday meal committee and their twice-a-year blood drives in partnership with the American Red Cross. As a regular blood donor, he recently gave his 13th gallon donation.
Kotzin is an Albany area native, and he and his family currently live in the Syracuse suburb of DeWitt.