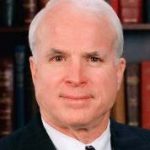 CSEA is mourning the loss of U.S. Sen. John McCain, 81, who passed away on Aug. 25 at his Arizona home after a battle with cancer.
McCain dedicated his life to serving America. He was a firm believer in and a model for working together to better our country despite our differences.
McCain served in the U.S. Navy for 27 years, during which he was imprisoned for several years in a POW camp. In 1982, he was elected to the U.S. House of Representatives. In 1986, he was elected to the U.S. Senate. He was serving his sixth Senate term at the time of his passing. He also unsuccessfully ran for President twice.
"John McCain embodied the spirit of American people everywhere," CSEA President Danny Donohue said. "He knew that while we often disagree, there are things greater than ourselves that require setting aside our differences to work on. Not unlike many of our dedicated union activists, he lived to serve others."
McCain clearly demonstrated he was a true American hero by putting Americans first in Vietnam. He refused to leave other prisoners behind at a POW camp despite an offer of early release. His strong conviction led to more years of imprisonment and torture.
After retiring from the Navy, McCain turned to politics. Known as a "maverick" who wasn't afraid to take stands contrary to his party's positions, McCain often crossed party lines to work on behalf of American people. He was a leading voice on campaign finance reform, environmental measures and health care.
McCain also ran for President in 2000 and 2008, winning the Republican nomination for the general election in the latter campaign. During that race, McCain emphasized respect and decency for all people, even defending opponent Barack Obama against personal attacks by McCain supporters.
In recent years, McCain continued to be a powerful voice not only in the Senate, but for the American people. As we reflect on his recent passing, many of the ideals for which McCain stood for can serve as inspirations for our union and our society. We come from many walks of life that include different beliefs and experiences, but many of the issues we face are the same, as demonstrated in this excerpt from McCain's farewell address:
"We argue and compete and sometimes even vilify each other in our raucous public debates. But we have always had so much more in common with each other than in disagreement. If only we remember that and give each other the benefit of the presumption that we all love our country, we will get through these challenging times. We will come through them stronger than before. We always do."
McCain understood that to achieve great things, we need to stand strongly together.